Grilled Octopus with Smoky Chorizo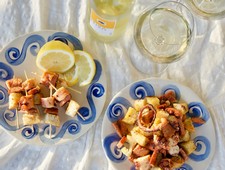 Recipe Date:
1 December 2022
Ingredients
1 kg octopus, cut into individual tentacles
3 garlic cloves
3 large sprigs of parsley
2 lemons, juiced
1 teaspoon dried oregano
1 smoked chorizo sausage, cut into four slices lengthways
5 thick slices of your favourite crusty bread
1 glass of white wine
JOSEPH Extra Virgin Olive Oil
Sea Salt & Cracked Black Pepper
Directions
1. Squash two garlic cloves and place them in a saucepan with the octopus, parsley, white wine, and three tablespoons of JOSEPH Olive Oil.
2. Using very low heat, simmer with the lid on for one hour, turning the octopus once. Turn off the heat and let cool. The octopus will have tenderized nicely.
3. Meanwhile, make the marinade in a small bowl. Add 100ml JOSEPH Olive Oil, the juice of two lemons, 1 teaspoon of oregano, 1/2 teaspoon of sea salt, and a good amount of cracked pepper. Grate the remaining garlic clove into marinade and mix thoroughly.
4. Remove octopus from the saucepan and place in a large bowl with the chorizo slices. Add 1/3 of the marinade and mix until both the octopus and chorizo are coated.
5. Brush the bread slices with a little of the marinade.
5. Bring a barbecue or griddle to very high heat. Cook the octopus and chorizo for a few minutes on each side. Toast the bread on both sides.
6. Remove from heat. Cut the octopus, chorizo and bread into bite sized pieces as pictured.
7. Return to the bowl, add the remaining marinade and mix well.
Serve on a bowl or skewer as you prefer. This dish is best served fresh from the grill, but it also shines when pre-prepared and served cold.
This spicy, smoky seafood dish is best served with a textural white wine. Our reccommendation: a chilled glass of the Primo Estate Fiano. It's a legendary combination!