Insalata di Mare - Seafood Salad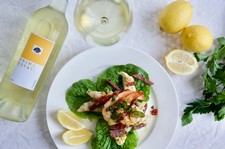 Recipe Date:
22 April 2021
Ingredients
8 Large Raw Prawns shelled
800 g Ling Fish Fillets cut into 1 cm slices
200 g Finocchiona Salami thinly sliced then cut into strips
1 Red Chilli finely sliced
1 Green Chilli finely sliced
1 Clove Garlic finely sliced
1 Handful Fresh Parsley roughly chopped
5 tablespoons JOSEPH Cold Pressed Extra Virgin Olive
Sea Salt and Freshly Cracked Black Pepper
Directions
Place prawns, fish, salami, chilli, garlic and 5 tablespoons of JOSEPH Olive Oil into a bowl. Add a pinch of sea salt and cracked black pepper.
Gently combine until olive oil coats all ingredients in the bowl.
Bring a large frying pan to medium-high heat. Fry the fish and prawns for 1.5 minutes on each side then remove from pan and put to one side.
Return the frying pan to heat and add salami, chilli, garlic, and any remaining olive oil.
Stir fry for 2-3 minutes until the salami has begun to crisp and the garlic has begun to brown. Be careful not to burn.
Remove the pan from heat.
Plating:
Divide the fish fillets onto 4 plates.
Add two prawns to each plate and spoon over any remaining juices.
Add the salami, chilli, and garlic mixture as pictured. Top with a good pinch of parsley and an extra drizzle of JOSEPH Cold Pressed Extra Virgin Olive Oil.
Serve with a slice of lemon and a side of crunchy salad leaves and crusty bread.
The bright flavours of this salad are the perfect compliment to our fragrant Fiano!