Mussels in White Wine Broth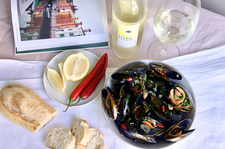 Ingredients
1.00 kg mussels, cleaned and debearded
2 tablespoons JOSEPH Extra Virgin Olive Oil
1 onion, diced
3 garlic cloves, minced
1 cup La Biondina white wine
1 fresh chili, diced
1 teaspoon chili flakes
2 tablespoons JOSEPH Olive Oil
salt & pepper to taste
Directions
Our perfect evening - seeing the sun set while enjoying these juicy mussels and a cold glass of La Biondina.
1. Heat JOSEPH Olive Oil in a large pot over medium heat.
2. Add the onion, garlic, and fresh chili. Cook until softened, about 5 minutes.
3. Add chili flakes and 1 cup La Biondina and bring the mixture to a simmer. Let it cook for 10 minutes.
4. Add the mussels to the pot and cover it with a lid. Let the mussels steam for 5-7 minutes or until they open up.
5. Discard any mussels that do not open.
6. Add salt and pepper to taste. Sprinkle chopped parsley over the top of the mussels.
7. Serve the mussels in bowls with ladles of the white wine broth.
Drizzle with JOSEPH Olive Oil at the table for added flavour. Use plenty of crusty bread for dipping in the broth.
Pour yourself a chilled glass of La Biondina and enjoy!