Pane con Uovo e Bellini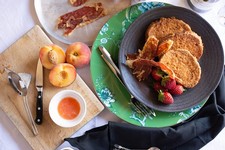 Recipe Date:
31 October 2018
Ingredients
8 eggs, beaten
1 tablespoon soy sauce
8 thick slices of bread
1 bottle JOSEPH Extra Virgin Olive Oil
8 slices of prosciutto
50 ml vino cotto
salt and pepper to taste
Directions
Pane con Uovo
Lay the slices of prosciutto on a tray lined with baking paper.
Heat oven to 180 degrees and cook the prosciutto for 14 minutes – the slices should be slightly brown and crispy.
In a bowl, beat eggs together with soy sauce, salt and pepper.
Fill a frying pan to 2cm deep with JOSEPH Extra Virgin Olive Oil.
Heat the oil until it's ready for frying. Check the temperature of the oil by dropping in a small cube of bread. If it sizzles, the oil is ready!
Individually dip slices of bread into the beaten eggs, and then place them immediately in the hot oil.
Fry the bread until browned on one side, and then turn over.
Once done, place pieces of bread on a paper towel to soak up excess oil.
Serve accompanied by crispy prosciutto and drizzle with vino cotto for a salty and sweet treat. Alternatively, fresh strawberries and maple syrup will satisfy any dessert cravings!
Bellini
Ingredients
- 2 fresh white peaches, peeled and pushed through a fine sieve to make a pulp
- Peach nectar - we love the 'Pago' peach nectar, available in most delis
Directions
Place 1 tablespoon of fresh peach pulp in the bottom of a champagne glass.
Add ¼ cup of peach nectar to the glass.
Top-up with Primo Secco – be ready for the explosion of frothy bubbles.