Pasta Pomodorini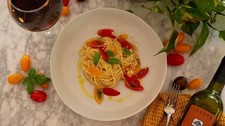 Recipe Date:
7 January 2023
Ingredients
500 g Rainbow Medley Tomatoes, quartered
500 g Spaghetti
50 g Pecorino Cheese, grated
1 Garlic Clove, grated
100 ml JOSEPH First Run Extra Virgin Olive Oil
2 tablespoons marjoram, finely chopped
1 tablespoon basil, finely chopped
Directions
Delicious and simple, the key to this pasta is plenty of First Run extra virgin olive oil and grated Pecorino cheese.
1. Bring a large pot of water to boil for the pasta.
2. Combine tomatoes, garlic, JOSEPH First Run olive oil and herbs in a bowl.
3. Using your hands, squash the tomatoes to release their juices, season with salt and pepper, and let the mixture rest while you cook the pasta!
4. Salt the boiling water and add pasta, cook according to the packet or al dente.
5. Combine pasta with tomato mixture and add a generous amount of pecorino cheese and extra black pepper.
6. Serve with plenty of drizzled JOSEPH First Run olive oil and a chilled glass of the Merlesco Merlot.
Our soft, juicy Merlot is the perfect red for simple Mediterranean dishes like Pasta Pomodorini.