Pollo alla 'Ncip 'Nciap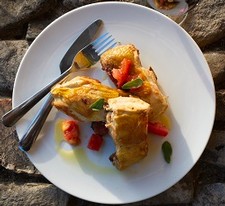 Recipe Date:
18 July 2019
Ingredients
1500 g chicken cut into small pieces
4 cloves of garlic, whole with skin left on
2 tomatoes, diced
1 sprig of rosemary
6 sage leaves
1 glass of dry white wine
3 tablespoons JOSEPH Extra Virgin Olive Oil
Directions
Cook the chicken pieces until brown in a heavy casserole dish over medium-high heat with 3 tablespoons of JOSEPH Extra Virgin Olive Oil.
Reduce heat to low and cook the chicken for a further 40 minutes while turning the pieces occasionally.
Add white wine and stir until evaporated.
Add the rosemary, sage, garlic then salt and pepper to taste.
Continue cooking the pieces over low heat for 10 minutes.
Add the tomatoes and cook for a further 5 minutes.
Turn the pieces so that they're coated with sauce and serve finished with a generous dash of JOSEPH Extra Virgin Olive Oil.
Serve with your favourite salad and lots of crusty bread to soak up those pan juices!
Perfect with a glass of our savoury 2018 Il Briccone Shiraz Sangiovese.
Buon Appetito!