Seafood Cannelloni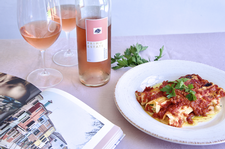 Recipe Date:
11 January 2023
Ingredients
1 x 375g packet of fresh lasagna sheets
500 g mixed seafood, finely chopped. We recommend prawn & lingfish.
1 x 500g tub of ricotta cheese
1/4 cup freshly chopped parsley
1 whole onion, outer layer removed
1 stick of celery
1 whole carrot peeled
2 x 400g tins of diced tomato
sea salt & freshly cracked black pepper
JOSEPH Olive Oil
Directions
We first tried this recipe on Christmas Day, and it was a stunning success.
As it came out, the steaming pasta dish filled our whole home with smells of tomato, lingfish, and fresh prawn.
This is the ultimate dish for pairing with our Sangiovese Rosé. We'll be making it again next Christmas!
1. Preheat the oven to 180°C.
2. Drizzle a small amount of olive oil in a saucepan over medium heat. Sauté the mixed seafood in this pan for one minute. Season with salt & pepper and allow to cool.
3. In a bowl, mix together the cooked seafood, ricotta cheese and parsley with a little salt & pepper.
4. Cut the lasagna sheets into thirds, approximately 150mm long each. Turn each peice to make a cannelloni tube.
4. Spoon the seafood mixture into the cannelloni tubes. Make at least 12 cannelloni (3 per serve).

5. Make the marinara sauce:
Heat two tablespoons of olive oil in a saucepan over medium heat.
Add the onion, celery, carrot, and tins of chopped tomato.
Bring to a simmer, then turn the heat to low and cook for a further 30 minutes.
Remove the vegetables.
Season the sauce to taste with salt and pepper.
6. Spread half of the marinara sauce in the bottom of a large baking dish. Place the filled cannelloni tubes on top of the marinara sauce. Pour the remaining marinara sauce over the cannelloni.
7. Cover the dish with foil and bake for 30 minutes.
8. Remove the foil and bake for an additional 5-10 minutes to crisp the top.

9. Remove from oven, and let the cannelloni cool for a few minutes before serving.
Plate with fresh parsley and a flourish of JOSEPH Cold Pressed Extra Virgin Olive Oil.
Our Sangiovese Rosé's vibrant flavours and crisp finish are a perfect match for savoury seafood cooking. This dish was no exception!