Slow-cooked Fennel in Tomato Sauce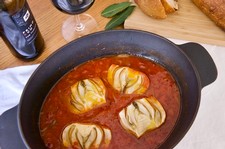 Recipe Date:
30 August 2022
Ingredients
2 fennel bulbs, halved with green tops removed
2 400g tins sliced tomatoes
1 onion, finely sliced
2 bay leaves
3 cloves garlic, crushed
1 cup vegetable stock
JOSEPH First Run Extra Virgin Olive Oil
sea salt & cracked black pepper
Directions
Need a great vegetarian dish to go with red wine? Look no further!
This Winter warmer is stunning when served with a glass of 'The Tuscan' Shiraz Sangiovese. The wine's spicy aromatics and cherry fruit flavours are perfect for this hearty recipe.
1. Pre-heat the oven. Turn to 150°C, fan forced.
2. Add 50ml JOSEPH Olive Oil to a high-sided casserole pot. Put on low-medium heat and sauté the onion and bay leaves for 5 minutes.
3. Add the garlic while stirring. Sauté for another 30 seconds.
4. Add the tomatoes, vegetable stock, a couple of good pinches of sea salt and plenty of freshly cracked black pepper to the pot.
5. Stir the mixture and bring to a simmer.
6. Turn the heat off. Place the fennel bulbs in the mixture cut side up, but not fully submerged.
7. Drizzle a little more JOSEPH Olive Oil over each fennel bulb.
8. Place the the lid on the casserole pot. Cook in the oven for 2.5 - 3 hours.
9. Serve with lashings of JOSEPH First Run Extra Virgin Olive Oil and plenty of crusty bread. Enjoy!
This recipe is delicious on its own or with a side of gnocchi, pasta, or polenta.
We love this dish with our Italian-made 'The Tuscan' Shiraz Sangiovese. It's the perfect spicy red wine for this Winter recipe. Buon appetito!