Spaghetti alla Siracusana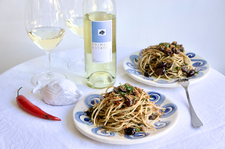 Recipe Date:
13 September 2023
Ingredients
500 g spaghetti
200 ml JOSEPH Extra Virgin Olive Oil
100 g breadcrumbs
4 garlic cloves, finely chopped
200 g anchovies
dried chilli flakes, to taste (2-3g recommended)
150 g black olives, halved
1 small bunch fresh parsley, chopped
salt
Directions
The ancient city of Syracuse sits on the eastern coast of Sicily.
This traditional pasta combines the region's famous Mediterranean ingredients: anchovies, black olives, garlic and chilli.
Crispy breadcrumbs fried in JOSEPH Extra Virgin Olive Oil add bursts of texture to this rustic dish.
The vibrant notes of our Primo Pecorino perfectly complement this pasta's intense Italian flavours.
1. Cook the spaghetti in a pan of boiling salted water according to packet instructions.
2. Heat 50ml JOSEPH Olive Oil in a frying pan over medium heat. Add the breadcrumbs and fry until browned. Remove breadcrumbs from frying pan and place in a bowl on the side.
3. In the same pan, add another 150ml JOSEPH Olive Oil and the finely chopped garlic cloves. Sauté for 30 seconds, until the garlic becomes fragrant.
4. Add the anchovies and cook them while stirring lightly until they are completely broken up, about 2 minutes.
5. Mix in the chilli flakes and black olives.
6. Remove the pan from heat and add the chopped parsley.
7. Add the sauce to your spaghetti and mix well.
Serve fresh from the pan with a chilled glass of Primo Pecorino for maximum effect!