Speck and Radicchio Spaghetti Carbonara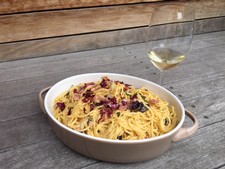 Recipe Date:
28 February 2018
Ingredients
500 g spaghetti
100 g speck, sliced and cut into approximately 1cm squares
100 g radicchio
3 egg yolks and 2 whole eggs
2 tablespoons thick cream
1 good pinch of dried chilli flakes
50 ml Virginia Vineyard Chardonnay, Riesling, Sauvignon Blanc
JOSEPH Cold Pressed Extra Virgin Olive Oil
Lots of grated parmesan cheese
salt and ground black pepper
Directions
In a glass bowl crack in the two whole eggs and add the 3 egg yolks, 5 heaped tablespoons Parmesan, thick cream, a good pinch of salt and a good grinding of black pepper, whisking the mixture together.

Cook the spaghetti in plenty of salted water ensuring that it remains 'al dente'.
While the spaghetti is cooking take a small shallow frying pan and sauté the speck for a minute or two in 3 tablesoopns of JOSEPH Cold Pressed Extra Virgin Olive Oil then add the chilli flakes and a pinch of salt. After a quick stir sprinkle the white wine over and continue sautéing for another minute. Turn off the heat then add 4 tablespoons more of the olive oil and crack some black pepper over the mixture. Set aside.

In a small saucepan saute the radicchio down with 2 tbspns of water and a tablespoon of olive oil and a pinch of salt for a minute or two. Turn off heat and set aside.

As soon as the pasta is cooked, drain the water and return the pasta to the pot. Over a gentle heat add the speck mixture and mix in well. Then add in the radicchio with its cooking juices, followed immediately by the egg and parmesan mixture, mixing well all through the spaghetti.

Take off the heat and serve immediately with plenty more Parmesan and freshly cracked black pepper.