Veal Scallops with Herb and Tomato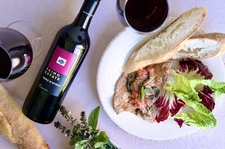 Recipe Date:
23 March 2023
Ingredients
400 g thinly sliced veal or beef
3 ripe tomatoes sliced 5mm thick
1 clove garlic, sliced
1 small handful of fresh basil and sage
JOSEPH Cold Pressed Extra Virgin Olive Oil
sea salt & freshly cracked black pepper
Directions
When the new Primo Estate Nero d'Avola arrives, there's no time to waste.
This delicious Sicilian main takes only 15 minutes to prepare. The Mediterranean flavours are perfect for matching with savoury red wines.
1. Pour two tablespoons of olive oil in a large pan and bring to high heat.
2. Brown the veal slices in pan for two minutes on each side.
3. Turn the heat to low and add the tomato, herbs and garlic.
4. Season with sea salt and freshly cracked black pepper.
5. Cover the pan and sauté for about 8-10 minutes, turning the slices a couple of times.
6. Serve with lashings of JOSEPH Extra Virgin Olive Oil, a crisp salad and crusty bread.
Serve with a glass of our new Nero d'Avola, and let the flavours transport you to the sun-drenched shores of Sicily!