Zamberlamb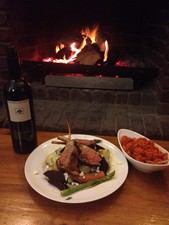 Recipe Date:
4 September 2013
Ingredients
5 Four pin Hay Valley Lamb Racks
1 tbs cumin seeds
2 tbs smoked paprika
2 tbs fennel seeds
JOSEPH First Run Extra Virgin Olive Oil
Spring Salad Ingredients
500 g beetroot, peeled and halved
3 bunches asparagus
500 g broad beans (peeled)
2 bunches baby carrots
500 g kipfler potatoes, scrubbed and halved
10 chopped anchovy fillets
300 g marinated feta
1 bunch mint, roughly chopped
Directions
Crush fennel seeds, cumin seeds and paprika together in a mortar and pestle. Make into a paste by adding a little JOSEPH First Run EVOO, rub into the lamb racks and allow to marinate overnight.
Heat oven to 180 degrees. In a hot pan seal off the lamb racks and place on roasting tray. Cook in oven for 10 - 15 minutes. Allow lamb to rest for 5 - 10 minutes.
Blanch and refresh beetroot, asparagus, broadbeans, potatoes and carrots. They should be cooked but still have a crunch to them. Place all except beetroot in a bowl, season with sea salt, pepper and JOSEPH EVOO. Add chopped anchovy and mint then toss. Place salad on plate then scatter beetroot and feta on top. Slice each lamb rack into four individual cutlets and serve on top of the salad.
Enjoy!
The Primo Team
PS Come and enjoy Zamberlan, JOSEPH Nebbiolo and the new 2012 Merlesco Merlot paired with Rob Paglia of La Dolce Vita's cooking at our Budburst Lunch on Sunday 30th and public holiday Monday 1st October - book your tickets now