La Magia Botrytis Riesling Traminer 2016
The story of La Magia dates back to the late 1970's when a young Joe Grilli was experimenting with Botrytis at Roseworthy's School of Winemaking.
Captivated by the way this technique completely transformed pristine grapes into the exotic elixir of a sweet white wine, Joe applied his the method he developed on a batch of 1981 Riesling in the newly built Primo Estate winery. The rest, as they say, is history...
Fast forward to 2016, and while the technique is the same, Joe is now sourcing Riesling from the Angel Gully vineyard in Clarendon, McLaren Vale. The cool nights at our 250m altitude vineyard combined with the sloping, stony soil of the Clarendon sub-region show themselves in the mineral character and tingling acidity of the palate.
The subtle spicy lift of La Magia comes from a 15% blend of first-class raisined Traminer from the Barossa Valley. Careful monitoring as the 'noble rot' botrytis concentrates the flavour of the grapes gives the wine an intensity and richness of flavour. The balance of luscious, soft sweetness and cleansing fresh acidity comes from blending botrytised fruit with naturally dried grapes.
The nose is saturated with floral and summer fruit characters: fresh and lifted. The floral intensity really stands out with delicious honeysuckle rose and orange blossom characters. Spicy Traminer notes on the finish.
Succulent mandarin and apricot fruit balanced with generous amounts of fresh zippy acid shine through on the palate. More intense Riesling flavours than in previous years from the mineral character of the Clarendon fruit.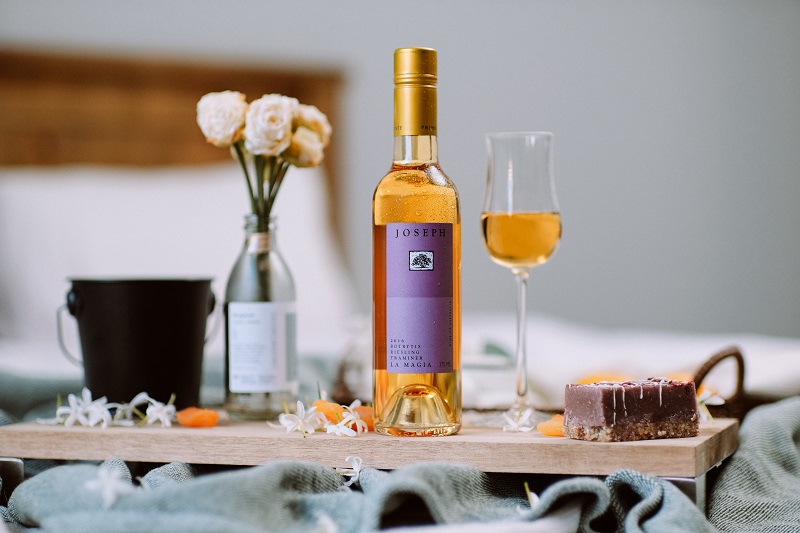 Enjoy a FREE bottle of Extra Virgin Olive Oil and FREE shipping with every straight or mixed dozen of Primo Estate or JOSEPH products.