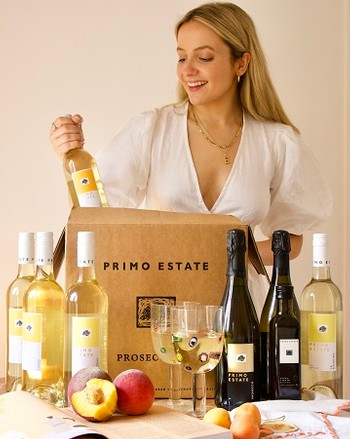 The Primo Summer Pack
SPECIAL OFFER

A great value mixed dozen of Sparkling and Whites! One box of wine that'll get you through Summer.
4 x NV Primo Estate Prosecco
Prosecco of the Year - The 2020 Australian Sparkling Wine Report
Fine stone fruit and lemon marry well with delicate bubbles and crisp acidity. This savoury sparkling is mouthwatering and moreish.
4 x 2021 Primo Estate La Biondina
Bursting with juicy passionfruit, mango, and citrus flavours. The taste of Summer all year round!
4 x 2020 Primo Estate Fiano
Overflowing with fragrant notes of grapefruit, melon, and nashi pear. The perfect food-friendly wine for seafood and white meats.
1 x 250ml Primo Estate Extra Virgin Olive Oil
A fresh and fruity Extra Virgin Olive Oil with a hint of pepper on the finish.
Delivered to your door with a FREE bottle of Extra Virgin Olive Oil and FREE shipping.
Product Reviews
peter thorburn
(08/11/2021 at 6:47 AM)
keep up teh good work .Hopefully the storms havent reeked too much damage going forward
Amanda T
(09/11/2021 at 2:15 PM)
Taste of summer in every drop! Fresh, lively and a perfect accompaniment to light summer food. We are ordering another case for Christmas and New Year get togethers.
Terri D
(23/11/2021 at 10:36 AM)
Delicious summer wines love them. Will be great with our Christmas Dinner thank you.
Peter Cummings
(14/12/2021 at 7:42 PM)
A good combination of whites and bubbles for the summer