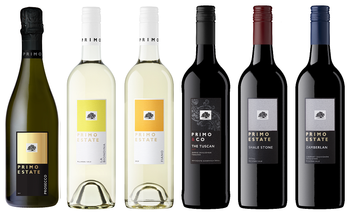 The McLaren Vale Mixed Six
One great price for six delicious Primo wines!
Can be combined with any other six bottles for free shipping and a bonus bottle of extra virgin olive oil.
1 x NV Primo Estate Prosecco
Prosecco of the Year - The 2020 Australian Sparkling Wine Report
Fine stone fruit and lemon marry well with delicate bubbles and crisp acidity. This savoury sparkling is mouthwatering and moreish.
1 x 2021 Primo Estate La Biondina
Bursting with juicy passionfruit, mango, and citrus flavours. The taste of Summer all year round!
1 x 2020 Primo Estate Fiano
Overflowing with fragrant notes of grapefruit, melon, and nashi pear. The perfect food-friendly wine for seafood and white meats.
1 x 2020 Primo & Co 'The Tuscan' Shiraz Sangiovese
We created The Tuscan in Italy using a unique combination of modern Australian winemaking and traditional Italian fruit. A savoury style with spicy aromatics and lashings of cherry fruit.
1 x 2020 Primo Estate 'Shale Stone' Shiraz
This is rich, smooth McLaren Vale Shiraz at its best. A carefully assembled blend of fruit from our McLaren Vale vineyards.
1 x 2020 Primo Estate 'Zamberlan' Cabernet Sangiovese
A rich and complex red that has been crafted using the Northern Italian 'Ripasso' technique. The 2020 vintage shows succulent cassis fruit notes over chocolate and tobacco.