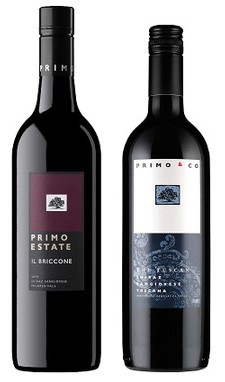 The Red Italy vs Australia Dozen
Stock up on these smooth, food-friendly Shiraz blends crafted by Joe Grilli, our winemaker, in both Italy and McLaren Vale.
6 x 2019 Primo Estate Il Briccone Shiraz Sangiovese 750ml
The Il Briccone is our 'Rogue blend' of rich McLaren Vale Shiraz with savoury Sangiovese. This is a full-bodied Winter red brimming with plum, pepper and spice. The Sangiovese adds a burst of cherry to the wine's balanced finish. Il Briccone compliments a wide range of dishes, but it shines when poured alongside hearty, tomato-based cooking.
6 x 2019 Primo & Co The Tuscan Shiraz Sangiovese 750ml
Joe created The Tuscan in a small winery outside of Cortona, Southern Tuscany. Like Il Briccone, The Tuscan blends Shiraz with Sangiovese to create a balanced, savoury style with spicy fruit aromatics and lashings of cherry on the palate. Perfect for pizza, pasta and Italian pork sausages.
1 x 250ml Primo Estate Extra Virgin Olive Oil
A fresh and fruity Extra Virgin Olive Oil with a hint of pepper on the finish.
Plus FREE SHIPPING and insurance!