Agnello Cacio e Ova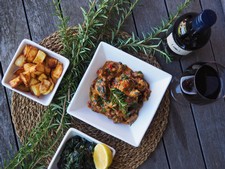 Recipe Date:
11 April 2019
Ingredients
1 Lamb shoulder 1.2kg (deboned, trimmed of fat and cut into 2cm cubes)
1 Onion (large, finely diced)
1 Red Capsicum (large, finely diced)
300 ml White wine (Primo & Co The Venetian Garganega)
300 ml Vegetable stock
2 Eggs
50 g Pecorino Cheese (finely grated)
2 tablespoons of JOSEPH Cold Pressed Extra Virgin Olive Oil
half clove of Garlic (minced)
1 Rosemary sprig (green leaves stripped and finely chopped)
1 handful of Parsley (finely chopped)
Directions
Heat a heavy based pan/pot and add 1 tablespoon of olive oil.
Heat oil gently then add garlic, onion and capsicum. Cook on a low-medium heat for 6-7 mins until the capsicum and onions are softened and the onions are translucent.
Remove onion and capsicum from the pan, place in a bowl and set aside.
Place 1 tablespoon of olive oil in the pan on medium heat. Season the lamb with salt and pepper then add to the pan. Turn occasionally until meat is browned.
Reintroduce the onion, capsicum and garlic back to the pot and add rosemary.
Add white wine and stock. Cover partially and simmer on a low-medium heat for 1 hour, stirring occasionally. If the liquid reduces quickly, turn the heat down and add a small amount of stock to the pot.
Once the lamb is tender and the liquid has reduced down by about three quarters, remove from the heat and let the lamb cool. The lamb needs to cool to a point where it is warm but not too hot so that it won't scramble the egg mixture.
In a separate bowl whisk the eggs and add grated pecorino cheese.
Once the lamb has cooled, add the egg/cheese mixture. Return the stove over a very low heat and keep stirring gently for a minute until the sauce is combined with the liquid to make a glossy, creamy sauce.
Season with salt and pepper, stir parsley through and serve immediately with sautéed spinach and a wedge of lemon, and/or roast potatoes.
Delicious with Primo Estate Zamberlan Cabernet Sangiovese!