Artichoke and Beaufort Risotto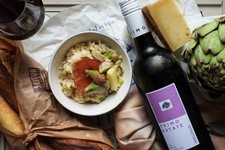 Recipe Date:
8 August 2019
Ingredients
350 g arborio rice
3 artichokes, trimmed and sliced, or a jar of artichokes under oil
200 g beaufort cheese, grated
1 clove of garlic, finely chopped
1 small white onion, finely chopped
1.5 l vegetable stock
60 g butter
4 slices of pancetta, crisped in a frying pan
100 ml Primo Estate La Biondina
1 bottle JOSEPH Cold Pressed Extra Virgin Olive Oil
sea salt and freshly cracked black pepper
Directions
Heat the vegetable stock to near boiling point in a saucepan.
In a separate large saucepan sauté the onion in 4 tbspns of JOSEPH Cold Pressed Extra Virgin Olive Oil and half the butter for 2 minutes. If using fresh artichokes, add them now and cook for another 3 minutes till the onion has softened.
Under medium heat add the rice and stir the whole mixture for one minute before adding the white wine and continuing to stir for a further minute until the liquid is absorbed.
Begin to add the vegetable stock one ladle at a time as per normal risotto procedure.
Once half the stock mixture is used, add the artichokes – unless you've used fresh artichokes with the sautéed onions.
Continue cooking till the rice is cooked 'al dente'; it should take about 15 minutes total. Turn off the heat.
Add the beaufort cheese and remaining butter to the rice.
Serve with the crispy pancetta on top and final extra drizzle of JOSEPH Cold Pressed Extra Virgin Olive Oil.
The juicy Primo Estate Merlesco Merlot is a perfect match for the Beaufort's creamy richness.
Buon Appetito!