Autumn Slow-Cooked Pork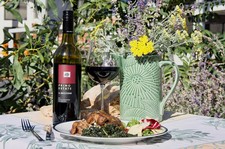 Ingredients
1.2kg rolled pork (can be scotch or loin) - skin on, bone out
4 star anise
4 cloves garlic, squashed
2 teaspoons ground ginger
250 ml chicken stock
1 cup white wine
sea salt & black pepper
JOSEPH Cold Pressed Extra Virgin Olive Oil
Directions
I've been fine-tuning this recipe for decades.
Finally, I've achieved it: my ultimate Italian pork roast. This roast is crispy on the outside, tender on the inside, and packed with seasonal flavour.
Click here to watch me cooking this recipe.
1. Turn on oven to 150°C, fan forced.
2. Pat the pork skin dry with a paper towel. Slice across the rind in three stripes so that the pork can be cut into four equal pieces after cooking.
3. Place the pork in a deep casserole pot.
4. In a small bowl, combine the ground ginger with one heaped teaspoon of sea salt and a half teaspoon of freshly ground black pepper.
5. Rub this mixture into the pork skin.
6. Add the garlic and star anise to the pot. Carefully pour the chicken stock, white wine and 50 ml JOSEPH Cold Pressed Extra Virgin Olive Oil around the pork, but not over it.
7. Place lid on the pot and cook in oven for 3 hours at 150°C.
8. Remove the casserole pot lid and return to the oven under a high grill setting for approximately 10 minutes. This will crisp up the pork skin.
9. Remove the pork from the pot and cut into four pieces.
10. Serve each piece with pan juices spooned on top and a generous drizzle of JOSEPH Cold Pressed Extra Virgin Olive Oil.
A side dish of your favourite greens (think Tuscan Kale) and a crisp salad completes the picture.
The heady aromas of this dish pair beautifully with the cherry fruit flavours of our Primo Estate 'Il Briccone' Shiraz Sangiovese. This is a real celebration of autumn, salute!

Joe Grilli
Owner & Winemaker