Beef Carpaccio with Aged Vinegar Aioli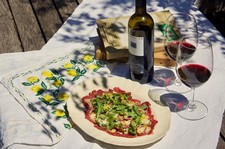 Recipe Date:
25 November 2020
Ingredients
400 g piece of Eye Fillet Beef, good quality
2 Egg Yolks
1 clove Garlic, minced
1 tablespoon Lemon Juice
0.5 tablespoon Grated Lemon Zest
25 g Capers, chopped
1.5 Tablespoons of La Casetta Aged Vinegar
1/4 cup grated Grana Padano cheese
JOSEPH Extra Virgin Olive Oil
60 g Fresh Baby Rocket
Directions
Prior to prep, place the beef in the freezer for 1.5hrs. This will partially freeze the beef and make it easier to slice. The meat should be cold and slightly frozen, but not solid.
Aged Vinegar Aioli
Finely chop the capers, mince the garlic clove, grate the lemon zest, juice the lemon and set each aside.
Add the egg yolks, garlic and lemon juice to a jug. Use a stick blender to blend all ingredients. Keep blending and very slowly pour in olive oil until the mixture thickens.
Add the JOSEPH La Casetta Aged Vinegar, capers and blend again. Add salt and pepper to taste then set the finished aioli aside.
Beef Carpaccio
Take the beef out of the freezer. With a sharp knife, cut the beef into 3mm slices and place on a cold plate.
Place a layer of clingfilm over a chopping board and lay the beef slices on it (you may need to do this in batches).
Place another piece of clingfilm on top of the beef and, using a meat tenderizer (or pestle), lightly pound the beef until each piece becomes thinner, larger and almost translucent. Once you have done this to all beef pieces, lay on a large plate for serving.
Season the beef with salt and pepper, place rocket leaves across the beef and drizzle the aioli as pictured. Sprinkle grated cheese on top and then some grated lemon zest.
Drizzle lightly with JOSEPH Extra Virgin Olive Oil and serve with crusty bread and a glass of The Tuscan - the Shiraz Sangiovese's spicy fruit characters and medium body make it the perfect match for this Summer beef dish!