Chilli Blue Swimmer Crab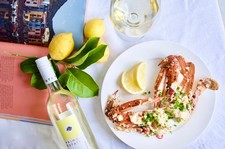 Recipe Date:
6 August 2022
Ingredients
2 blue swimmer crabs - cap removed, cleaned and split in half
1 clove garlic, crushed
3 cm piece of ginger, grated
1 red chilli
1 green chilli
2 eggs
2 spring onions, finely sliced
Directions
I'm addicted to shellfish and white wine.
Each year, after we bottle our new vintage white wines, I have to cook this recipe. It's incredible when served with a chilled glass of Primo Estate La Biondina.
In this dish, fresh chilli and fried egg add beautiful flavour to the tender, succulent crab meat.
Click here to watch me cook it!
1. Mix the garlic, ginger, chilli, white wine, and 4 tablespoons JOSEPH Olive Oil in a small bowl. Add a pinch of sea salt and some freshly ground black pepper.
2. Bring a large wok or saucepan to high heat.
3. Add the crabs to the saucepan. Immediately pour the garlic mixture over the crabs.
4. Stir fry for about two minutes, until the crabs have turned red.
5. Add the lemon juice to the wok and mix with crabs for 15 seconds.
6. Crack the two eggs over the crabs. Continue stir frying for 30 seconds.
7. Remove from heat.
8. After plating, sprinkle the spring onion over the crab. Add a final dash of JOSEPH Olive Oil for added flavour.
The vibrant tropical flavours of our La Biondina are a perfect match for the fragrant spices of this stir-fry. There's no better way to celebrate the latest vintage - enjoy!

Joe Grilli
Owner & Winemaker