Fritto Misto - Italian Seafood Fry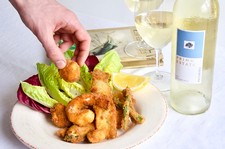 Recipe Date:
27 October 2021
Ingredients
4 small fillets of your favourite fish (eg. garfish, flathead)
4 large prawn tails shelled and de-veined
1 half cauliflower cut into bite-sized florets
1 handful green beans trimmed
1 zucchini cut into 8mm thick ovals
6 eggs
6 heaped tablespoons of plain flour
500 g breadcrumbs
1 lemon cut into four wedges
100 ml extra virgin olive oil
1 salt & pepper
1 oil for frying (eg. vegetable oil, rice bran oil)
Directions
This Italian seafood fry, or 'Fritto Misto', is a classic Summer dish in my parents' homeland: Le Marche.
Serve with a chilled glass of our Primo Pecorino, and discover heaven on earth!
Method
Blanch the green beans and cauliflower florets in boiling water for 2-3 minutes. Drain the vegetables in a colander and set aside to dry and cool for two minutes.
Place the fish, vegetable pieces, and flour into a large plastic shopping bag. Mix gently until flour coats each piece.
Crack all eggs into a medium bowl and whisk together. While mixing, add a healthy seasoning of salt and pepper.
Place the breadcrumbs into a separate wide bowl.
Take a few pieces of the fish and vegetables and submerge them in the egg mixture. Once dipped, immediately transfer them to the breadcrumbs to coat. Set the coated pieces to one side and repeat for all fish and vegetables.
In a large frying pan, pour in frying oil to a depth of 2cm and place on medium heat.
You can check that the oil has come to the right temperature by dipping in a small piece of bread. Once the bread shows signs of frying, add the 100ml of EVOO.
Start frying the fish and vegetable pieces in batches.
One important note about frying: do not overheat the oil to smoking point. This is the Italian secret to retaining the olive oil's beautiful flavour!
Fry each batch for a few minutes, turning each piece only once for that lovely golden brown colour.
Remove each batch from the frying pan onto a plate covered with paper towels for drying. Sprinkle a final dash of salt over each freshly fried piece.
Serve with lemon wedges, a crispy salad, and a bottle of Primo Pecorino - absolute heaven!
- Joe