Spaghetti with Garlic, Chilli and Olive Oil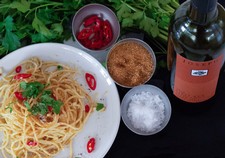 Recipe Date:
1 August 2018
Ingredients
400 g spaghetti
5 cloves of garlic, peeled and squashed
1 tablespoon of sliced chilli, or to taste
4 tablespoons of dried breadcrumbs
2 tablespoons of parsley, finely chopped
1/3 cup JOSEPH Extra Virgin Olive Oil
1/3 cup grated pecorino
salt to taste
Directions
Heat a large pot of water for pasta; add plenty of salt and cook pasta according to packet directions. Reserve a cup of cooking water for later.
Toast the breadcrumbs in a small frying pan over medium heat until brown – no oil necessary!
Heat oil in a large frying pan over medium to low heat. Add garlic and begin to cook gently. Make sure the garlic doesn't brown too much; you just want the oil to be flavoured and the garlic to become soft and almost sweet.
Add chilli flakes to the frying pan and continue cooking over low heat for 10 minutes.
Add the cooked pasta to the oil, garlic and chilli mix and remove from heat. Add the reserved cooking water and mix. Add the toasted breadcrumbs and pecorino.
Serve with extra pecorino, a sprinkle of parsley and an extra pouring of Joseph Extra Virgin Olive Oil.