Goat's Curd Pinzimonio with JOSEPH Olive Oil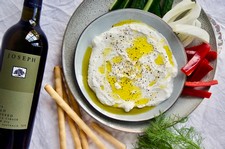 Recipe Date:
26 August 2020
Ingredients
1 Red Capsicum
1 Cucumber
1 Fennel Bulb
1 Packet of Grissini
100 g Goat's Curd (cheese)
Directions
Cut the capsicum, fennel and cucumber into thin rectangular pieces for dipping.
Place the Goat's Curd on a flat dish of your choosing, and use a spoon to spread it evenly as pictured.
Sprinkle salt and cracked black pepper over the Goat's Curd to taste.
Serve the Goat's Curd with grissini and cut vegetables on the side.
Once the dish is on the table, drizzle JOSEPH Cold Pressed Extra Virgin Olive Oil until the Goat's Curd is covered as pictured.
Do not mix the Goat's Curd - use the grissini and vegetables to dip and enjoy the taste of Goat's Curd Pinzimonio.
This dish will match with any Primo wine - the Goat's Curd's richness compliments smooth Reds while crisp Whites and Rosés add definition to the dish's soft texture.
Buon appetito!