JOSEPH Olive Oil Steak Dressing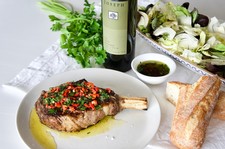 Recipe Date:
22 September 2021
Ingredients
4 small Mediterrean Chillis
1 bunch Fresh Parsley
16 tablespoons JOSEPH Extra Virgin Olive Oil
1 clove Garlic
Salt & Pepper
Directions
Prepare this simple dressing before cooking your steaks. The dressing's flavours will combine and intensify while steeping.
Dice the chilli, garlic and parsley as pictured. Gently mix together, and place into four small ramekins (one for each serve).
Add a generous amount of salt to each ramekin and a sprinkle of pepper.
Fill each ramekin with 4 tablespoons JOSEPH Cold Pressed Extra Virgin Olive Oil as pictured. Allow the dressing to steep for at least 10 minutes before serving.

Once the steaks are cooked, place the ramekins at each table setting. Serve the steaks and pour the dressing fresh as pictured.
Take this dish to the next level by serving with a full-bodied red like our smooth, fragrant Shale Stone Shiraz!