Maiale Al Latte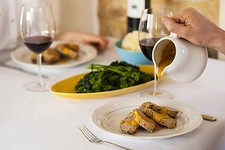 Recipe Date:
15 June 2016
Ingredients
2 pork fillets (approx 800g in total)
2 cloves of garlic, crushed
1 heaped tsp of fresh, finely chopped sage & rosemary
1 pinch of fennel salt or crushed fennel seeds (optional)
125 ml white wine
200 ml full cream milk
1 large carrot, peeled and cut into 3cm lengths
1 tbsp butter
6 tbsp JOSEPH Extra Virgin Olive Oil
Directions
Heat 6 tablespoons of olive oil and the butter in a heavy based pan. When hot add whole pork fillets and brown until golden on all sides. Add garlic and herbs to bottom of pan. Continue cooking for about 30 seconds, until aroma is released, being careful not to burn the garlic.
Add the fennel salt or crushed fennel seeds to the top of the meat and generously season with pepper and salt. Add white wine. Cook on medium heat semi-covered until nearly all liquid has evaporated, about 10 minutes.
Add milk and carrot, simmer on low heat, turning meat occasionally. Don't be alarmed if the milk looks curdled, it will taste wonderful. Continue cooking until most of the milk has evapourated and the meat and carrots are tender. Remove meat to a warm dish, cover and let rest.
Transfer sauce and carrot to a bowl and puree using a hand-held blender. Cut the pork into 1cm slices on the diagonal and serve topped with an abundant helping of the sauce and a good grind of black pepper.
Delicious with braised winter greens and mashed potato.
Enjoy!