Risotto Con Salsicce e Radicchio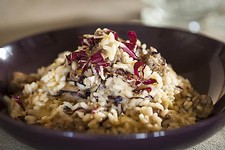 Recipe Date:
2 November 2016
An authentic risotto from Dina Grilli's Venetian mother, perfect for an easy mid-week dinner.
Ingredients
400 g Arborio rice
4 Italian pork sausages, skin removed and cut into thumb size pieces
1 Head of radicchio lettuce, leaves shredded
1 Onion, finely chopped
1.5 l Chicken stock
200 g Parmesan freshly grated
Directions
Heat the chicken stock to a simmer and check for seasoning.
In a large saucepan sauté the onion with 2 tablespoons of JOSEPH Extra Virgin Olive Oil until the onion softens (about one minute). Add the sausage and cook until the meat colours, 3 or 4 minutes. Add the rice and stir for 2 minutes until coated.
Start adding the broth ladle by ladle allowing each ladleful to be absorbed by the rice before adding the next, gently stirring all the time.
After about 7 or 8 minutes add the radicchio and continue cooking until the rice is cooked but al dente.
Take off the heat and stir in 3/4 of the parmesan and 2 tablespoons of the olive oil.
Serve with extra parmesan on top.