Salt and Pepper Garfish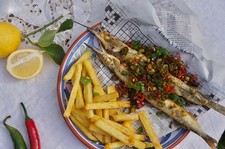 Ingredients
4 Whole Garfish or Garfish Fillets
1 Green Chilli, diced
1 Red Chilli, diced
1 small bunch of Spring Onion, diced
Plain Flour
Salt and Pepper
Vegetable Oil for frying
JOSEPH Extra Virgin Olive Oil
Directions
Lightly dust the garfish all over with flour.
Put a centimeter of vegetable oil in a large fry pan, add heat and bring up to frying temperature.
Once the oil is ready for frying, drizzle about 50ml of JOSEPH Olive Oil around the pan - the addition of top-quality Extra Virgin Olive Oil adds incredible flavour to the fry.
Add the garfish to the pan and fry until golden brown. Each side of the fish should take about 3-4 minutes.
Remove the fish from the pan and place on paper towels so that the residual oil drains.
Fry the diced chillis and spring onion in the pan until they become a little bit crispy. Should take about 3-4 minutes.
Remove the chilli and spring onion with a slotted spoon and place immediately on the fried garfish.
Season the fish with salt and pepper to taste.
Serve with crunchy salad, your favourite potato chips and a chilled glass of La Biondina - there is no better match for fish and chips!