Calamari alla Siciliana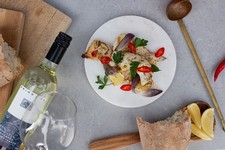 Recipe Date:
7 March 2019
Ingredients
4 medium local squid, cleaned, including tentacles and cut to chunky pieces
4 medium potatoes, peeled and cut to 2cm pieces
4 small to medium red onions, peeled cut to large separated pieces
4 cloves of garlic, crushed
150 ml JOSEPH Cold Pressed Extra Virgin Olive Oil
1 tablespoon dried oregano
1 handful of chopped parsley
sea salt and freshly cracked black pepper
juice of one large lemon
Directions
Pre-heat your oven to 180 degrees Celsius.
Combine the squid, potatoes, onions, garlic, chilli, JOSEPH olive oil and oregano in a large bowl and mix well.
Tip contents of large bowl into a shallow (5cm) baking dish and cover with foil. Place baking dish in the oven for one hour at 180 degrees Celsius.
Increase the oven to 220 degrees Celsius, remove foil from the baking dish and continue cooking until the mixture is browned on top - this should take another 20 minutes or so.
Remove baking tray from oven and season the dish with sea salt and freshly cracked black pepper.
Sprinkle parsley and lemon juice over the top and stir the mixture thoroughly so that the potato starts to soften and combine with the JOSEPH olive oil and lemon juice.
Serve with a simple green salad, crusty bread and a bottle of Primo & Co 'The Venetian'!
Buon Appetito!