Poached Ling Fish with Potatoes and Black Olives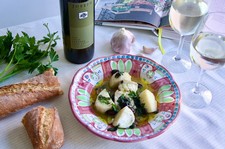 Recipe Date:
27 October 2022
Ingredients
1.00 kg ling fish cut into 4 pieces
4 medium potatoes, each cut into 4 pieces
100 g pitted kalamata, rinsed and halved lengthwise
2 cloves garlic, crushed
1 handful of parsley leaves, plucked from the stem
JOSEPH Cold Pressed Olive Oil
Sea Salt & Cracked Black Pepper
Directions
This dish comes to life when served with our JOSEPH Cold Pressed Olive Oil.
Add a chilled bottle of our Primo & Co 'The Venetian' for an incredible dining experience.
1. Place the fish fillets in a large, high-sided pan. Then add potatoes, olives and garlic.
2. Sprinkle parsley over the top, add a few good pinches of salt and plenty of cracked black pepper.
3. Add half a cup of water then drizzle liberally with JOSEPH Olive Oil.
4. Place a lid on the pan and then bring to a simmer on low heat.
5. Simmer for 20 minutes or until the potatoes are fully cooked through.
6. After plating, add another generous dash of JOSEPH Olive Oil.
Serve with plenty of crusty bread and a chilled glass of our Primo & Co 'The Venetian'. This crisp, floral Italian white wine is the perfect pairing for simple seafood cooking.
Buon appetito!