Radicchio and Cheese Risotto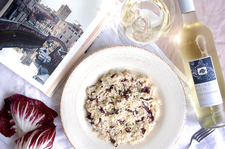 Recipe Date:
18 April 2023
Ingredients
1 cup Arborio rice
1 small head of radicchio, chopped
1 small onion, finely chopped
2 cloves garlic, minced
4 cups chicken or vegetable stock
1 cup of our Primo & Co 'The Venetian'
1 cup freshly grated Parmesan cheese
2 tablespoons unsalted butter
2 tablespoons JOSEPH Cold Pressed Extra Virgin Olive Oil
salt & pepper to taste
Directions
This recipe is inspired by the king of Northern Italian vegetables – radicchio. When cooked, it mellows to give the most delicious spicy, bittersweet flavours.
This is how we cook rice to get the perfect Italian risotto texture.
1. Heat the chicken or vegetable stock in a medium saucepan and keep it warm over low heat.
2. In a separate large saucepan, heat the JOSEPH Olive Oil and 1 tablespoon of the butter over medium heat.
3. Add the onion and garlic. Sauté until the onion is translucent, about 3-4 minutes.
4. Add the Arborio rice and stir well to coat it with the oil and butter. Cook for 1-2 minutes, stirring frequently, until the rice is lightly toasted.
5. Add the white wine to the rice and stir constantly until the wine has been absorbed.
6. Begin adding the warm stock, 1/2 cup at a time. Stir constantly and wait for each addition of stock to be absorbed before adding the next. Continue this process until the rice is cooked and creamy, about 20-25 minutes.
7. When the rice is nearly finished, stir in the chopped radicchio. Cook for an additional 2-3 minutes, until the radicchio has wilted.
8. Remove the risotto from the heat and stir in the remaining tablespoon of butter and grated Parmesan. Season with salt and pepper to taste.
9. Serve the risotto hot, garnished with additional grated Parmesan and chopped parsley.
A crisp, zesty white wine is needed to cut through the soft texture of this risotto. The vibrant floral flavours of our new Italian-made Primo & Co The Venetian are a perfect match!