Venetian Antipasto Trio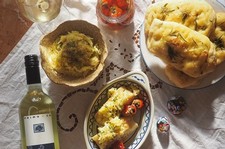 Recipe Date:
19 March 2020
Ingredients
Stuffed Chillies
Baccalá Mantecato
Rosemary Schiacciata - Flatbread
Directions
These are three of our family's antipasti staples: fresh stuffed chillies, rosemary schiacciata, and our favourite: baccalà mantecato.
See the recipe for each dish below - serve together as a starter or a snack with a cool glass of our Primo & Co 'The Venetian'.
STUFFED CHILLIES
Ingredients
- 1kg Fresh Chillies, we prefer Scotch Bonnet Chillies
- 2 litres White Vinegar
- 1 large jar of Anchovy Fillets
- 1 jar of Capers
- JOSEPH 'Cold Pressed' Extra Virgin Olive Oil
Method
Wash and deseed the chillies, allow them to drain of water, place them in a bowl and cover with the white wine vinegar.
Ensure the chillies are completely submerged by placing a plate on top of the bowl. Let the chillies soak at room temperature for 24 hours or more.
After a day or more, remove the chillies from vinegar and allow them to dry out for a further 24 hours.
Remove one anchovy fillet from the jar, place a caper at one end and roll the fillet so that the caper is in the centre. Place the anchovy and caper inside the chilli. If the chilli is quite large, you may need to add another rolled anchovy fillet.
Stuff the rest of your chillies, place them into a sterilised jar and cover completely with JOSEPH Olive Oil. Close the jar tightly with the lid.

These chillies are ready for eating right away or can be left for up to a year - bring them out at special occasions for starters.
RUSTIC BACCALÁ MANTECATO - Salted Cod Paste
Ingredients
- 500-600g baccalà (salt cod) soaked (or if frozen, defrosted)
- 2 Garlic Cloves
- 150ml JOSEPH 'Cold Pressed' Extra Virgin Olive Oil
- A handful of fresh parsley, or fresh thyme (whichever is preferable)
- Pepper
For this recipe we have used pre-soaked and frozen salt cod; however, if you have regular salt cod, you will need to soak it beforehand to remove excess salt, as follows:
Rinse the fillet with water and place it into a large bowl. Cover the fillet with enough water to completely submerge it.
Cover the bowl and refrigerate for at least 8 hours, changing the water every 3-4 hours.
Method
Place the baccala into a large saucepan and cover with water. Bring water to boil and let it simmer for about 10 minutes.
Remove pan from heat and let sit to cool with lid on for a further 10 minutes.
When still slighty warm, remove the skin and any bones, and then roughly break the baccala into flakes in a large bowl.
Grate garlic cloves into bowl and gradually drizzle in olive oil, mashing the mixture with a wooden spoon or potato masher until the olive oil is absorbed.
Add in your chopped parley/thyme and cracked pepper to taste and continue to mash mixture until it is a desired consistency. You can use a hand blender or food processor to gently cream the mixture, but for this version we prefer the consistency when done by hand.
Serve in a bowl or on your sliced schiacciata and garnish with pepper, some extra herbs and an extra drizzle of olive oil.
ROSEMARY SCHIACCIATA - Flatbread
For those looking for a challenge, you can bake the Schiacciata from scratch using this recipe.
If time is an issue, we like to use this shortcut:
Ingredients
- Fresh Turkish Bread
- Fresh Rosemary
- Sea Salt
- JOSEPH 'Cold Pressed' Extra Virgin Olive Oil
De-stem the rosemary and mix it in a bowl with the olive oil - this will stop it from burning in the oven.
Sprinkle each Turkish bread with salt and oiled rosemary then drizzle with olive oil.
Bake at 180 degrees fan forced for 8-10 minutes.
Remove from oven, brush again with olive oil and serve while still hot!
Serve these classic Venetian starters alongside a cold glass of Primo & Co 'The Venetian'! Buon appetito!