Carpaccio di Pesce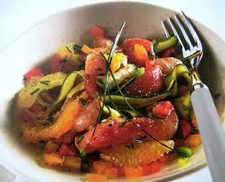 Recipe Date:
4 April 2013
Ingredients
Mixed leaf salad of thickly sliced radicchio, rucola and lettuga
Small handful of finely chopped parsley
One ruby grapefruit, segmented and all skin and pith removed
One orange, segmented and all skin and pith removed
300 g of raw tuna
Juice of 1/4 of a lemon
JOSEPH Cold Pressed Extra Virgin Olive Oil
Sea salt and freshly ground pepper to taste
Directions
Place the tuna in the freezer for 10 minutes before slicing it as thinly as possible with a very sharp knife. You are aiming for paper thin slices and chilling makes this easier. Mix a tablespoon of olive oil with the lemon juice to make a dressing. Toss all the ingredients together in a large bowl and drizzle the dressing immediately before serving. Add salt and pepper to tate. Pairs beautifully with our Venetian Garganega.