Crab, Lime & Chilli Spaghetti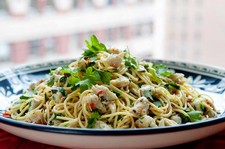 Recipe Date:
4 September 2013
Ingredients
250 g spaghetti
1 cloves of garlic, finely chopped
1 small red chilli, seeded and finely sliced
2 limes, zested and juiced
1/4 cup of JOSEPH Cold Pressed Extra Virgin Olive Oil
1/2 cup of roughly chopped flat leafed parsley
Salt flakes and freshly ground black pepper to taste
*200g cooked crab meat
Directions
Bring a large saucepan of salted water to the boil. Add pasta, stir well and continue boiling, stirring occasionally until it is al dente (cooked but with a little bite in the center).
Combine the garlic, chilli, lime zest and juice, olive oil, parsley, salt and pepper in a large bowl. When the pasta is cooked, drain well and tip into the bowl. Add crab meat and toss to combine, serving immediately.
Find out more about Sydney Seafood School's fabulous range of cookery classes.