Barchette di Peperone - Tuscan Stuffed Capsicum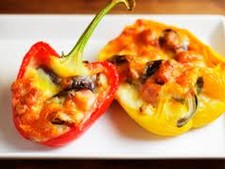 Recipe Date:
4 April 2013
Ingredients
6 capsicum
JOSEPH Cold Pressed Extra Virgin Olive Oil
150 g breadcrumbs
1 cup of milk
500 g sausage meat (simply cut the skins off plain pork sausages. Tuscans use many different meats in this dish, including leftovers but we like classic pork)
2 cloves garlic, finely chopped
2 eggs
Directions
Pre-heat oven to 200oC. Cut the capsicum in half lengthways and remove all seeds and pith. Brush peppers with olive oil and place on a baking tray in the oven for 10 minutes, skin side up.
Put a handful of breadcrumbs to one side for dressing and soak the remaining crumbs in milk for five minutes. Squeeze excess milk from the breadcrumbs and discard the milk.
Combine soaked bread in a bowl with garlic, eggs and meat. Loosely stuff the peppers with the mixture and sprinkle to top with the spare dry breadcrumbs. Pack the peppers into an oiled oven dish so they won't tip over. Drizzle with olive oil and cook for 20 minutes until golden.
Enjoy!
The Primo Team