5 October 2010 | Primo Estate
Oz Clarke Ranks JOSEPH Moda in Best Wines of 2011
The 2008 JOSEPH Moda Cabernet Sauvignon Merlot has been rated the #2 wine in the world by top British critic Oz Clarke in his new book Oz Clarke's 250 Best Wines 2011.
The star of 'Oz and James' Big Wine Adventure' writes:
"I remember moaning a few years ago that I only ever drank young Moda, yet the quality and flavour were so full of promise I just knew it would be better with age. The message got through. Earlier this year a box arrived on my doorstep with a clutch of Moda bottles going back to 1992. I was so excited I opened them all to drink during the England-Ireland rugby game - a feast for all senses, I hoped. The rugby was dull, the wines heavenly, the earlier Modas did need aging to soften up and open out, but there's been a sea change in grape sources and style in the past few years and, although they will age brilliantly, they're simply fantastic to drink at two or three years old.
The 2008 is as dense as wine can be, thrillingly bitter-sweet as only the best dark chocolate can manage and yet the bitterness shares space with coconut scented with chocolate dust and ripe black plums half way to syrup. But the syrup is black treacle swirled together with licorice and resinous herbs. The bitterness. The sweetness. The fundamental excellence."
Order the 2008 JOSEPH Moda here. Don't miss Oz and James' Big Wine Adventure coming soon to ABC and check out Oz's new book.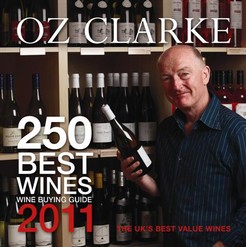 Oz Clarke's 250 Best Wines 2011
Comments
Commenting has been turned off.