The 2011 Primo & Co Tuscan Shiraz Sangiovese just arrived in cellar door all the way from Italy and we are loving its intense black cherry fruit. With Joe just back from this year's Italian vintage and our Meet The Tuscan Pizza lunches sold out all this talk of Tuscany is making us long for the delicious smell of classic Tuscan stuffed peppers paired with a glass of The Tuscan!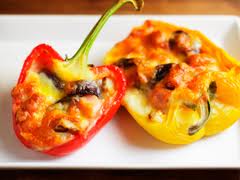 PS - Don't miss out on our free recipe of the month emails, become an Amici Primo mailing list member by completing the form on the top right of this page.

Legendary UK wine writer Oz Clarke has given us a glowing write-up in the 2013 edition of his Oz Clarke Wine Guide:
2011 Primo Estate Joseph Pinot Grigio d'Elena
Pinot Grigio on the label usually suggests a fairly light, insubstantial little thing for carefree glugging and tittering conversation. But not when the mighty Joe Grilli gets involved. Joe never skimps on flavour in his wines, and this really is classy stuff that pushes the Pinot Grigio style as far as it can go. Fluffy apple flesh and pale peach, golden-gage plum skins and bright lemony acidity are tinged by country smoke and laid on a yeasty bed of savoury cream.
No, 14 Red - 2010 Primo Joseph Cabernet Merlot Moda Amarone
Don't hurry this wine. I've kept the odd bottle of this wine to see how it ages. Well, it just gets better and better, and I'm not sure any of mine are even ready yet – and we're going back 10 vintages here. This 2010 is probably the longest-tasting ever... (Joe Grilli) dries these grapes to concentrate their flavours before fermenting them, and the first impression is of a dark, chewy black wine. But swirl the glass, take your time, and slowly dark, sweet blackcurrant, black cherry and Rosa plum fruit emerges, some mint and eucalyptus scent, some pastry dough and toffee softness, even while a tongue-tingling sourness pokes its fingers into the wines's ribs. Drink it now if you must, but all of this promise will exhibit a rare brilliance in 10 years' time.

The quintessential Venetian dish, for hundreds of years Risi e Bisi was so highly esteemed that Venetians were only permitted to enjoy it on feast days by order of the Doge. Somewhere between a soup and a risotto you don't have to wait for a feast day to enjoy this quick and easy dish, the perfect pairing with our Merlesco Merlot.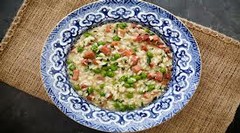 Tyson Stezer has awarded the 2010 JOSEPH Angel Gully Shiraz 96 points in the latest issue of Wine Business Monthly...
'There's an exotic, lifted spice and flamboyant personality that prevails from this wine in spite of the seasons, a signature of a special site, unmatched by any other patch of dirt'.


'Closer' a stunning exhibition of photography by Sandra Elms and Tony Kearney is gracing our cellar door function room as part of the Shimmer festival. Open from 11am - 4pm from 1st 'till 23rd September this is the perfect opportunity to combine a cellar door tasting with a wander around the gallery in the spring sunshine.

An Italian tradition to welcome the green buds of the new season to the vineyard this indulgent four course feast is perfectly paired with a special selection of our wines. We will be pouring our 2012 Primo Estate Merlesco Merlot for the very first time and as a special treat we will be raiding the cellar for a few precious bottles from our tiny production of 2010 JOSEPH Nebbiolo.
Invite your friends to share our celebration in the spring sunshine of McLaren Vale's stunning wine country. Just $85 per person including wines. Book your seat today.
Budburst Celebration Lunch Menu
Pepperonata and white anchovy crostini
2012 Primo Estate La Biondina Colombard
2012 Primo Estate Merlesco Merlot

oOo
Wood oven roasted quail with salad of farro grain, walnut, grape & shaved baby fennel
2010 JOSEPH Nebbiolo
oOo
Stuffed Hay Valley lamb, Sicilian eggplant caponata, fried sage gnocchi & seasonal salad
2010 Primo Estate Zamberlan Cabernet Sauvignon Sangiovese
2010 Primo EstateShale Stone Shiraz
oOo
Local & imported cheese selection
oOo
Book your seat today

Please advise of any special dietary requirements when booking and we will try to accommodate all requests. Children under 10 may attend free of charge but no seat or food will be allocated. Parents are responsible for their children at all times. Tickets for children over 10 can be purchased for $68. No refunds less than 7 days prior to the event

In celebration of the late Dina Grilli's unique contribution to Primo Estate we have filled the lastest issue of our newsletter with her delicious recipes. Download the new issue of Con Brio.
In memory of Dina we are also donating $20 from each dozen sold to the Mary Potter Foundation and the wonderful work of their hospices. Order today.

Come to our cellar door gallery and see South Australia's natural beauty through fresh eyes. Primo Estate is proud to be hosting an exhibition by four talented local artists from 5th - 26th September. Our stunning function room will be the perfect setting for the plant and animal sculptures of Andy Brockenbrow, the landscape and wildlife photography of Sharon Callaghan and Tony Morisset and the oil paintings of Evi Szollosi.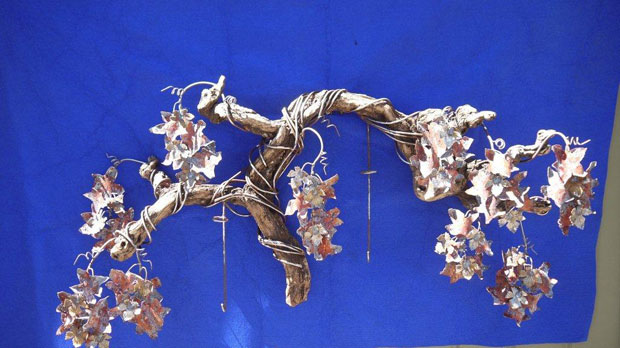 Joe Grilli is hitting the road for a series of Budburst Dinners with our Amici across Australia. We will be pouring a selection of Primo Estate and JOSEPH wines paired with specially created menus at the following fabulous venues:
Brisbane Budburst Dinner
Tuesday 28th August
Era Bistro, 102 Melbourne St, South Brisbane
$125.00 per person. Call Kate at Era to book on 07 3255 2033 or email events@erabistro.com.au
Melbourne Budburst Dinner
Wednesday 29th August
Sosta Cucina, 12 Errol St, North Melbourne VIC 3051
$120.00 per person. Call 03 9329 2882 or book online at sosta.com.au/book
Sydney Budburst Dinner
Thursday 30th August
Kitchen by Mike, 85 Dunning Avenue, Rosebery, Sydney 2018
$125.00 per person. Call 02 90450910 or email info@kitchenbymike.com.au
Canberra Budburst Dinner - SOLD OUT
Friday 31st August
Royal Canberra Golf Club, Bentham Street, Yarralumba ACT 2600
Perth Budburst Dinner
Wednesday 5th September
Cognito, 128 Wellington St, Mosman Park, WA 6012
Booking details coming shortly
Adelaide Budburst Dinner
Friday 7th September
Rigoni's Bistro, Leigh St, Adelaide
$125.00 per person. Call 08 8231 5160 or email info@rigonis.com.au