Ingredients
1.00 kg calamari (squid) tubes and tentacles, cut into bite sized pieces
1 cup of JOSEPH Cold Pressed Extra Virgin Olive Oil
2 cloves of garlic, crushed
3 tablespoons flat leaf parsley, chopped
2 cups fresh breadcrumbs
salt and freshly cracked black pepper
skewers (pre-soak in water if using wooden skewers)
1 lemon
Directions
In a bowl, drizzle JOSEPH oil on the calamari along with 1 tablespoon of chopped parsley, salt, pepper and garlic. Mix and set aside for at least 15 minutes.
In a seperate bowl combine the remaining 2 tablespoons of parsley with the breadcrumbs.
Roll the calamari through breadcrumbs and skewer. Grill for 2 to 3 minutes on each side and serve immediately with a final drizzle of oil and a squeeze of lemon juice.
Discover more Grilli family recipes here - click here now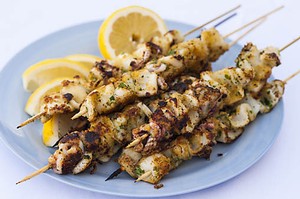 Flourless Orange Cake

Serving Size: 8
Cook Time: 03:00:00
Difficulty: Easy

Ingredients
2 medium oranges
6 eggs
1 cup caster sugar
1 1/2 tsps baking powder
1 1/2 cups ground almonds/almond meal
Tip: Fancy a change? The two oranges can also be replaced by 4-5 clementines, 3 lemons or 350g of kumquats
Directions
Wash and scrub the outside of the oranges and place them whole (skin and all) in a pot and fill with cold water to cover. Place over a medium high heat and bring to a boil. Allow to simmer uncovered for 20 minutes or so then drain the oranges, place them back in the pot and refill with more cold water. Repeat the process by bringing to the boil, simmer for 20 minutes then drain and refresh with more cold water. Bring it a boil and simmer for about an hour then drain the oranges and set them aside to cool. All up the process should take about 2 hours and you're draining and refreshing the oranges three times.
When the oranges have cooled, roughly chop them to pieces and remove any seeds and white pith (these will make your cake bitter). Place in a blender or food processor (skin and all) then blend/process until a fine puree.
Preheat oven to 175°C / 350°F and lightly grease and line with baking paper a 23 to 25cm cake tin (9.5 to 10 inch tin). I use large round cake tin (24cm across x 7cm high)
Measure out 1 1/4 cups of the puree. Just keep the rest in the freezer until the next orange cake episode. Beat the eggs, sugar and baking powder with an electric mixer until thickened and pale in colour. Add in the ground almonds and mix in well. On a low speed, add in the orange puree in two or three batches allowing it to beat for at least 20 seconds after each addition.
Pour into prepared tin and bake for anywhere between 40 minutes to an hour (depending on oven). Cake is ready when a skewer comes out clean. If it looks like it's browning too much after 30 minutes then you can place a sheet of aluminium foil over the cake tin.When done, remove from oven and cool for 10 minutes before removing it from the tin and cooling on a cake rack.
Serve with a dollop of orange-blossom scented double cream (or plain cream) and candied orange peel if you wish. The perfect pairing for our JOSEPH La Magia Botrytis Riesling Traminer.


Primo Estate's Patricia was born and raised in Singapore; she remembers the joys of the national dish from a young age. Patricia describes her childhood memories of the dish, "the thick, messy, sweet, spicy, tomatoey sauce with egg stirred through making it all gooey and gloopy was a joy to eat!" What kid (big and small!) doesn't want an excuse to lick their fingers! Perfect with a cold glass of Primo Estate La Biondina on a hot summer night.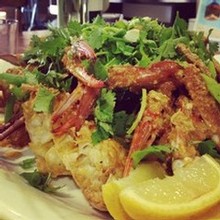 Joe says 'You know you have a real crowd pleaser when there are NEVER any leftovers no matter how much you cook - this is one of them'. Absolutely delicious with a bottle of Primo Estate Merlesco Merlot.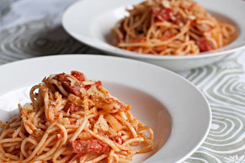 The 2011 Primo & Co Tuscan Shiraz Sangiovese just arrived in cellar door all the way from Italy and we are loving its intense black cherry fruit. With Joe just back from this year's Italian vintage and our Meet The Tuscan Pizza lunches sold out all this talk of Tuscany is making us long for the delicious smell of classic Tuscan stuffed peppers paired with a glass of The Tuscan!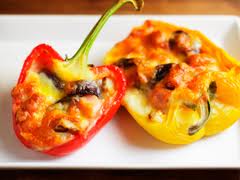 PS - Don't miss out on our free recipe of the month emails, become an Amici Primo mailing list member by completing the form on the top right of this page.

The quintessential Venetian dish, for hundreds of years Risi e Bisi was so highly esteemed that Venetians were only permitted to enjoy it on feast days by order of the Doge. Somewhere between a soup and a risotto you don't have to wait for a feast day to enjoy this quick and easy dish, the perfect pairing with our Merlesco Merlot.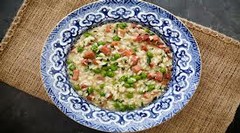 When the lovely Rosie from cellar door baked this delicious treat for the team it vanished so fast that we just had to share it with our Amici. Rosie inherited the recipe from her grandmother who escaped Berlin during the war. Rosie says 'This is a real winter warmer, the smell of apples and cinnamon baking takes me back to Grandma's kitchen'.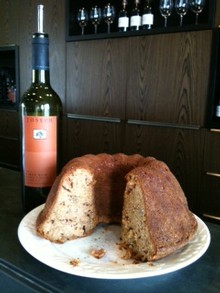 When long time Amici Primo Andrew and Justin Lind told us they'd found the perfect match for our JOSEPH Nebbiolo we knew they were serious as they not only sent us the recipe but also included a block of the heavenly Willie's Cacao for us to use! General Manager Richard cooked up a batch for the team one lunchtime and the empty plates and Nebbiolo bottle showed that Andrew and Justine were on to a winner.
This recipe is kindly provided by Willie's Cacao, but we warn you to be very careful clicking on the link, their products are addictively delicious!