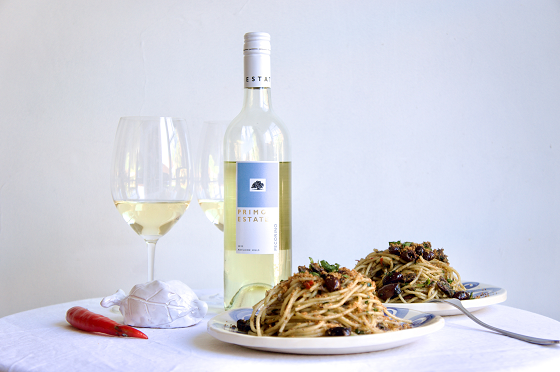 The ancient city of Syracuse sits on the eastern coast of Sicily.
This traditional pasta combines the region's famous Mediterranean ingredients: anchovies, black olives, garlic and chilli.
Crispy breadcrumbs fried in JOSEPH Extra Virgin Olive Oil add bursts of texture to this rustic dish.
The vibrant notes of our Primo Pecorino perfectly complement this pasta's intense Italian flavours.
Ingredients
500g spaghetti
200ml JOSEPH Extra Virgin Olive Oil
100g breadcrumbs
4 garlic cloves, finely chopped
200g anchovies
dried chilli flakes to taste (2-3g recommended)
150g black olives, halved
1 small bunch fresh parsley, chopped
salt
Directions
1. Cook the spaghetti in a pan of boiling salted water according to packet instructions.
2. Heat 50ml JOSEPH Olive Oil in a frying pan over medium heat. Add the breadcrumbs and fry until browned. Remove breadcrumbs from frying pan and place in a bowl on the side.
3. In the same pan, add another 150ml JOSEPH Olive Oil and the finely chopped garlic cloves. Sauté for 30 seconds, until the garlic becomes fragrant.
4. Add the anchovies and cook them while stirring lightly until they are completely broken up, about 2 minutes.
5. Mix in the chilli flakes and black olives.
6. Remove the pan from heat and add the chopped parsley.
7. Add the sauce to your spaghetti and mix well.
Serve fresh from the pan with a chilled glass of Primo Pecorino for maximum effect!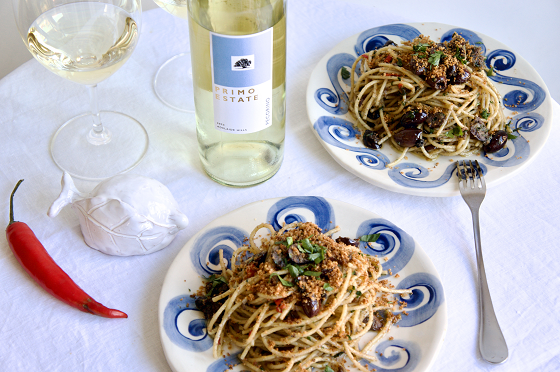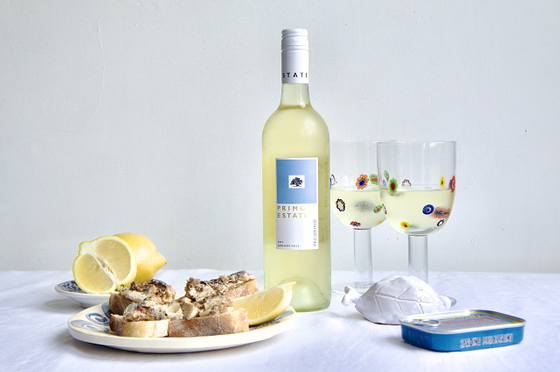 For two years running, James Halliday has included this wine in his 'Top 100' wines of Australia.
Today, you are the first to know - our 2023 Pecorino has arrived!
This vintage is another stunning edition of the style. It has a delicate perfume of stone fruit, lemon blossom and almond.
We made this wine using fruit from South Australia's first and only Pecorino planting.
It has been so inspiring to see the excitement grow for this grape from my father's homeland of Le Marche, Italy.
In previous years, this wine has sold out within days. Like last time, we're keeping it as an exclusive for our members.
Don't miss out on your chance to taste this historic white!
As always, we're sending every straight or mixed dozen with free shipping and a bonus bottle of our olive oil.
Here's to living la dolce vita!

Joe Grilli
Owner & Winemaker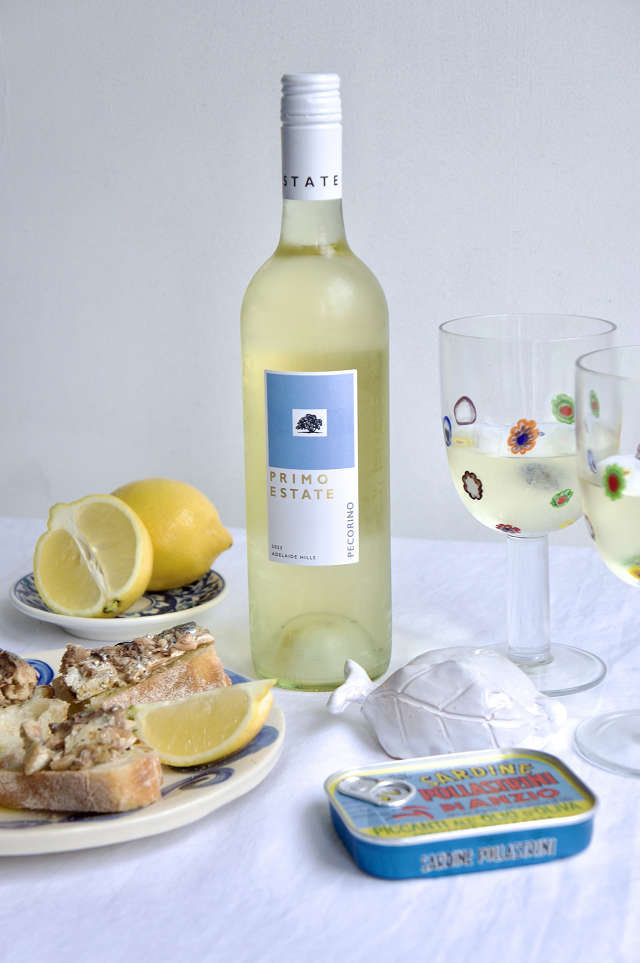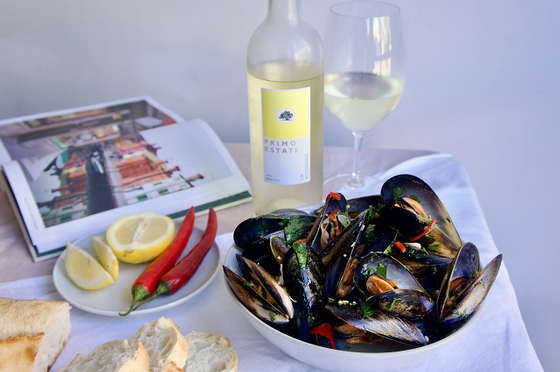 Our perfect evening - seeing the sun set while enjoying these juicy mussels and a cold glass of La Biondina.
Ingredients
1.00 kg mussels, cleaned and debearded
2 tablespoons JOSEPH Extra Virgin Olive Oil
1 onion, diced
3 garlic cloves, minced
1 cup La Biondina white wine
1 fresh chili, diced
1 teaspoon chili flakes
2 tablespoons JOSEPH Olive Oil
salt & pepper to taste
Directions
1. Heat JOSEPH Olive Oil in a large pot over medium heat.
2. Add the onion, garlic, and fresh chili. Cook until softened, about 5 minutes.
3. Add chili flakes and 1 cup La Biondina and bring the mixture to a simmer. Let it cook for 10 minutes.
4. Add the mussels to the pot and cover it with a lid. Let the mussels steam for 5-7 minutes or until they open up.
5. Discard any mussels that do not open.
6. Add salt and pepper to taste. Sprinkle chopped parsley over the top of the mussels.
7. Serve the mussels in bowls with ladles of the white wine broth.
Drizzle with JOSEPH Olive Oil at the table for added flavour. Use plenty of crusty bread for dipping in the broth.
Pour yourself a chilled glass of La Biondina and enjoy!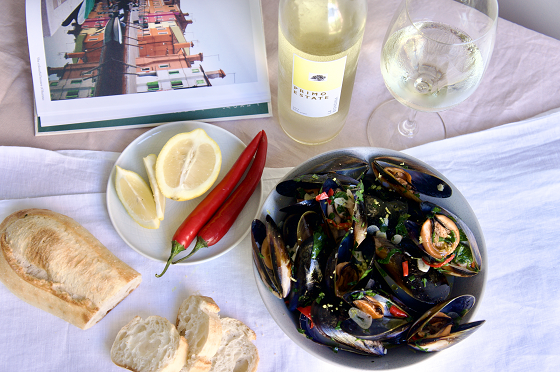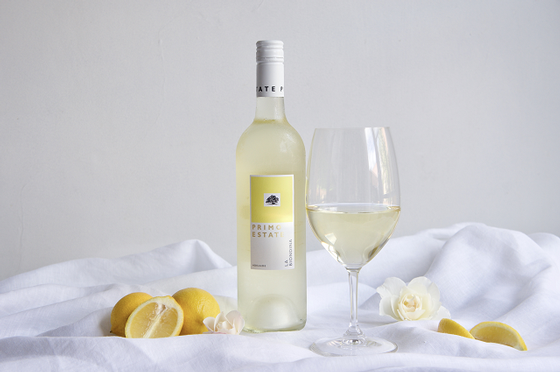 The 2023 La Biondina has arrived, and it's stunning.
This is my best effort at making South Australia's greatest food-friendly white wine.
I love the pineapple and mango flavours that leap from a chilled glass of La Biondina.
The 2023 vintage finishes with a satisfying citrus twist. It's perfect with simple seafood dishes like my Mussels in White Wine Broth.
Don't miss this chance to taste the wine at its freshest!
Here's what others have to say about La Biondina:
"This has become one of our all-time favourites - so fresh and delicious." - Robyn S, Western Australia, 2022
"It's addictive! My preferred white wine for close to 30 years and it gets better every vintage." - Leon H, South Australia, 2022
We're sending every straight or mixed dozen with free shipping and a bonus bottle of our olive oil.
Because life's too short to drink anything other than great wine!

Joe Grilli
Owner & Winemaker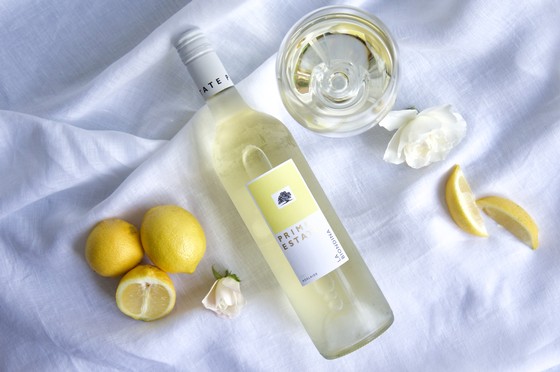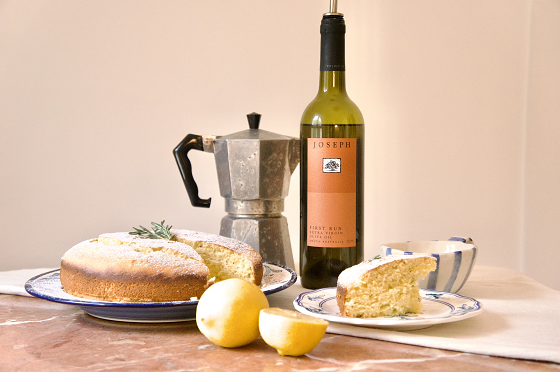 Have you tried baking with olive oil?
We love using olive oil instead of butter where possible. It's healthier, adds more flavour, and stops cakes from going dry.
The key to this recipe is our freshly pressed 2023 JOSEPH First Run.
The new oil adds fruit, fragrance and spice to this zesty Winter cake.
Ingredients
2 cups all-purpose flour
1 1/2 teaspoons baking powder
1/2 teaspoon baking soda
1/2 teaspoon salt
2 tablespoons fresh rosemary, finely chopped
2 large eggs
1/4 cup granulated sugar
3/4 cups extra virgin olive oil
1 cup plain Greek yoghurt
1/4 cup freshly squeezed lemon juice
zest of 1 lemon
powdered sugar, for dusting
Directions
1. Preheat your oven to 175°C. Grease and flour a 9-inch round cake pan.
2. In a medium bowl, whisk together the flour, baking powder, baking soda, salt, and chopped rosemary. Set aside.
3. In a large bowl, beat the eggs and granulated sugar together until pale and fluffy.
4. Slowly drizzle in the olive oil while continuing to beat the mixture. Mix until well combined.
5. Add the Greek yogurt, lemon juice, and lemon zest to the wet mixture. Mix until smooth.
6. Gradually add the dry ingredients to the wet mixture, stirring until just combined. Be careful not to overmix.
7. Pour the batter into the prepared cake pan and smooth the top.
8. Bake for about 35-40 minutes, or until a toothpick inserted into the center comes out clean.
9. Remove the cake from the oven and let it cool in the pan for 10 minutes. Then transfer it to a wire rack to cool completely.
10. Once the cake has cooled, dust it with powdered sugar and garnish with a sprig of fresh rosemary before serving.
Serve with hot coffee and a glass of The Fronti Fortified. Perfect for dunking!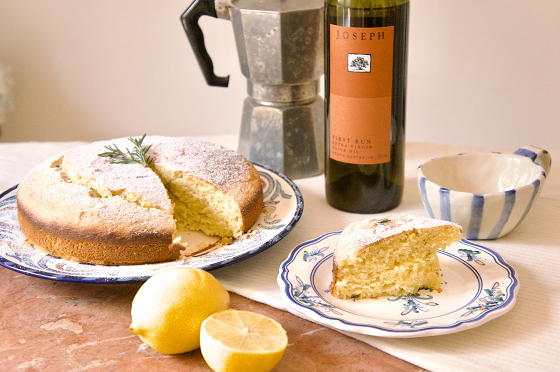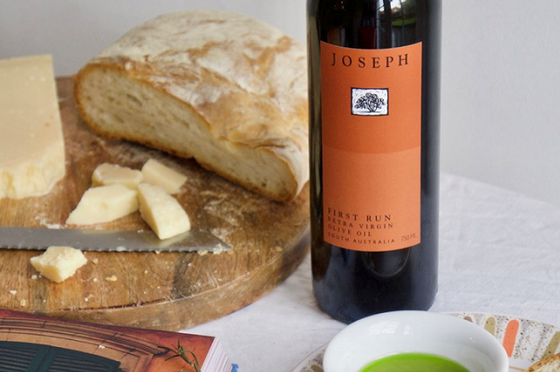 Once a year, for a limited time, we invite you to experience the freshest, most vibrant extra virgin olive oil that South Australia has to offer.
The 2023 JOSEPH First Run has been made using a small batch of olives, picked early to capture the most intense flavours of the new season.
The result is a pristine oil with concentrated green banana and cut grass aromas. Its crisp, fruit-driven flavours are followed by a clean peppery finish.
We make the First Run for drizzling over crusty bread, dressing salads or to enhance dishes once cooking is complete.
It's so exciting to share this seasonal release at peak freshness. Don't miss this chance to taste the oil at its most flavoursome!
Here's to living la dolce vita - cheers!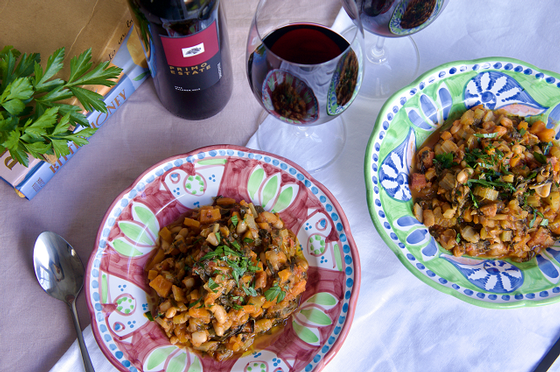 The secret to this delicious take on Tuscan stew is crispy pancetta. The smoky pork pieces make it a perfect match for savoury reds like our Primo Estate Sangiovese.
Ingredients
2 tablespoons JOSEPH Olive Oil
3 garlic cloves, finely diced
2 red onions, chopped
1/2 bunch celery, leaves and stem chopped
3 carrots, diced
1 cup of parsley leaves, chopped
2 x 400g cans diced tomatoes
200g pancetta, thinly sliced then diced
1 bunch of kale, stem and leaves chopped
400g cannellini beans, drained and rinsed
6 slices crusty ciabatta bread
sea salt & cracked black pepper
Directions
1. Heat the JOSEPH olive oil in a large saucepan over low heat. Add garlic, onion and gently sauteé for 2 minutes.
2. Add the celery, carrot, and parsley, then cook for 20 minutes as the vegetables soften.
3. Add the chopped tomatoes and cook for a further 30 minutes or until thickened.
4. While the soup is simmering, place a large frying pan over medium heat. Add the diced pancetta and cook until it starts to brown, about 3 minutes.
4. Add the pancetta, kale and half the beans to the stew. Boil water in a kettle and then fill the saucepan until the ingredients are just covered.
5. Simmer for a further 30 minutes or until quite thick.
7. Mash remaining beans with a fork, then add to the soup and stir thoroughly. Turn off heat.
8. While the soup is cooling, lightly toast the bread. Tear the bread into small chunks, then add to soup and stir.
Divide the ribollita into bowls and finish with lashings of JOSEPH Olive Oil and a sprinkle of fresh parsley.
Pour yourself a healthy glass of Sangiovese and enjoy the comfort of rustic Italian cooking!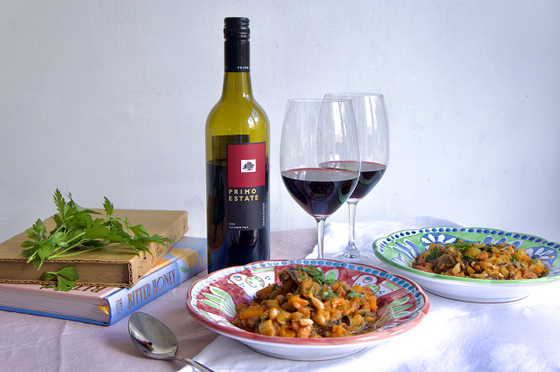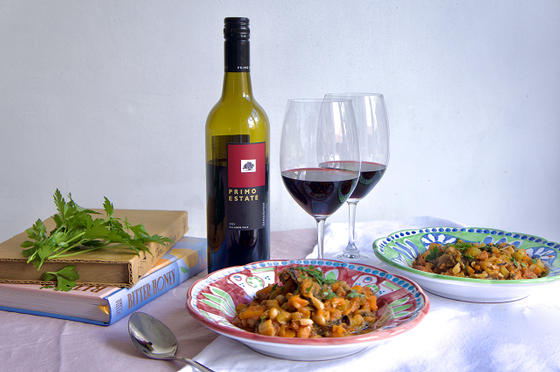 I only make this wine in exceptional years.
Friends and family have been asking after it since we sold out of the last vintage back in 2019.
Today you are the first to know - the 2022 Sangiovese has arrived!
I make this wine to pair with rustic Italian dishes. Last week we enjoyed it with bowls of my Ribollita - a hearty Tuscan soup.
The wine's black cherry, roast tomato, and dried oregano flavours were a perfect match.
Like last vintage, we bottled only a few small barrels of Sangiovese. This mailing list exclusive is not available in shops or restaurants.
Order today to taste this limited release.
We will deliver all straight or mixed dozens with free shipping and a bonus bottle of our olive oil.
Here's to living la dolce vita - cheers!

Joe Grilli
Owner & Winemaker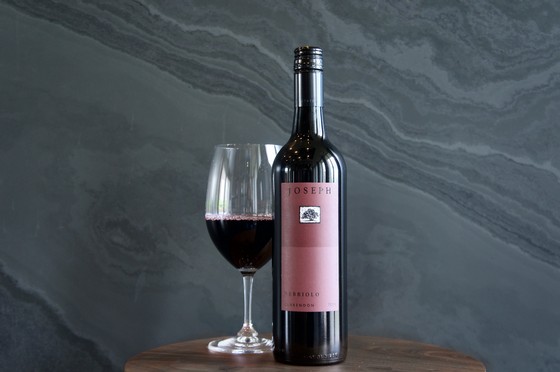 Our JOSEPH Nebbiolo has been rated Australia's #1 in Decanter Magazine!
In a panel tasting of 82 'Nebbiolos of the World', it scored highest in Australia and tied for second overall.
Here's what Master of Wine Dirceu Vianna Junior had to say about it:
"Expressive dark cherry fruit with lifting eucalyptus and herbaceous aromas. Well-balanced and complex fruit with well-integrated oak. Soft and supple on the finish - 93 points."
This wine has been our smallest bottling since we first made it back in 2001. Each year we release only 1200 bottles.
We've been celebrating in the winery this week, and just had to share the news.
It's so exciting to see our South Australian wine recognised on the world stage.
Discover our Nebbiolo - available only online and in our Cellar Door.
Because life's too short to drink anything other than great wine - cheers!

Joe Grilli
Owner & Winemaker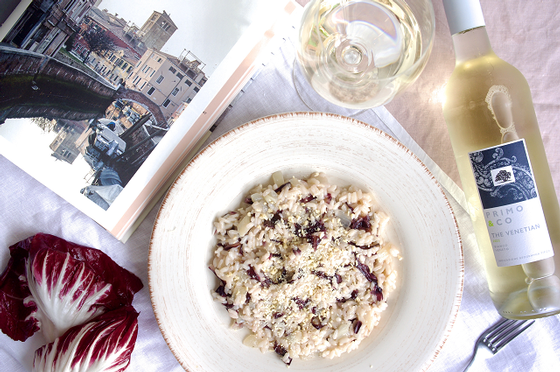 This recipe is inspired by the king of Northern Italian vegetables – radicchio. When cooked, it mellows to give the most delicious spicy, bittersweet flavours.
This is how we cook rice to get the perfect Italian risotto texture.
Ingredients
1 cup Arborio rice
1 small head of radicchio, chopped
1 small onion, finely chopped
2 cloves garlic, minced
4 cups chicken or vegetable stock
1 cup of our Primo & Co 'The Venetian'
1 cup freshly grated Parmesan cheese
2 tablespoons unsalted butter
2 tablespoons JOSEPH Cold Pressed Extra Virgin Olive Oil
salt & pepper to taste
Directions
1. Heat the chicken or vegetable stock in a medium saucepan and keep it warm over low heat.
2. In a separate large saucepan, heat the JOSEPH Olive Oil and 1 tablespoon of the butter over medium heat.
3. Add the onion and garlic. Sauté until the onion is translucent, about 3-4 minutes.
4. Add the Arborio rice and stir well to coat it with the oil and butter. Cook for 1-2 minutes, stirring frequently, until the rice is lightly toasted.
5. Add the white wine to the rice and stir constantly until the wine has been absorbed.
6. Begin adding the warm stock, 1/2 cup at a time. Stir constantly and wait for each addition of stock to be absorbed before adding the next. Continue this process until the rice is cooked and creamy, about 20-25 minutes.
7. When the rice is nearly finished, stir in the chopped radicchio. Cook for an additional 2-3 minutes, until the radicchio has wilted.
8. Remove the risotto from the heat and stir in the remaining tablespoon of butter and grated Parmesan. Season with salt and pepper to taste.
9. Serve the risotto hot, garnished with additional grated Parmesan and chopped parsley.
A crisp, zesty white wine is needed to cut through the soft texture of this risotto. The vibrant floral flavours of our new Italian-made Primo & Co The Venetian are a perfect match!