We were thrilled to see this great write-up from Tony Love in SA Weekend last week:
'Hidden within the Langton's Classification VI announced last week was the return to the list of Joe Grilli's Primo Estate Joseph Moda Cabernet Sauvignon Merlot. The four-yearly updated classification recognises the top echelon of Australian wines collected and traded via the leading Langton's auction market.
The Joseph Moda coincidentally is celebrating its 25th anniversary with the release of the latest (2012) vintage, and to look back at its vinous history Joe recently opened up every one of them. The collection is a testament to the ageing ability of cabernet sauvignon (albeit in a blend with merlot), and also a fascintating glimpse into the unusual "amarone' technique Joe employs in the drying of the grapes before they go into the winery. The drying allows flexibility to pick grapes earlier and retain their natural fruit brightness, but also prompts with age a complex array of flavours that appear like beef stock through to roasted walnuts and panforte.
One thing Joe is convinced about is cabernet sauvignon's suitability.
"It's a tough little berry that can withstand the more challenging years," he says. "You get the sun-filled Australianness of the raisins, as well as an Italian aged, earthy red character which comes around the seven-year mark." If you're a collector and have 2010, 2004, 2002, 1999, 1998, 1996, 1994, 1991, and even the 1989 and 1988 experimentals as Joe started out on this journey, then there are wonderful thrills to be had in your cellar.'
Watch our video of Joe making JOSEPH Moda - click here to view
Try the esceptional 2012 JOSEPH Moda Cabernet Sauvignon Merlot for yourself - click here to buy

Wow! What an honour to be ranked among the most consistently high scoring attractions on the Trip Advisor site. It's the fact that Trip Advisor reviews come from the public makes this award extra special. Thank you to everyone who reviewed us!
Check out what Trip Advisor's wine lovers have to say about their visits to Primo Estate - click here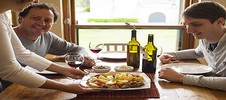 JOSEPH Moda 25th Anniversary Competition
To celebrate the 25th vintage of our iconic JOSEPH Moda Cabernet Merlot we are inviting one lucky Amici Primo and ten of their friends to join owner and winemaker Joe Grilli for an exclusive private lunch in our cellar door courtyard.
You could be celebrating your birthday or special anniversary in luxurious Primo style as you and ten friends share a limited edition six litre 'Imperial 'of 2012 Moda with Joe at this exclusive 'money can't buy' party. In addition, the lucky winner will have a $2,000.00 budget for travel and accommodation to share among their guests for a truly memorable trip. Three runners-up will each enjoy a magnum of 2012 JOSEPH Moda signed by Joe.
Each bottle of 2012 JOSEPH Moda purchased by Amici Primo in our McLaren Vale cellar door or via our website automatically earns one entry into this fabulous prize draw. The more 2012 Moda you buy from us, the more chances you have of winning as each bottle is another automatic 'ticket' in the draw. We look forward to celebrating 25 years of JOSEPH Moda with you in 2014.
Buona fortuna!
The Primo Team
Competition Terms & Conditions
Entrants must be aged 18 years or over
Entrants must agree to join the free Amici Primo mailing list so we can contact them if they win
Customers will receive one free entry in the draw with each bottle of 2012 JOSEPH Moda purchased in Primo Estate's Cellar Door or on www.primoestate.com.au between 31st March 2014 and 2nd February 2015 as long as stock is available.
No cash alternative will be offered
First prize consists of three course wine lunch for the winner and ten guests at Primo Estate with Joe Grilli valued at $1,300.00, plus a limited edition imperial of 2012 JOSEPH Moda valued at $1,000.00 and travel and accommodation to the value of $2,000.00. Three runners up prizes will consist of a magnum of 2012 JOSEPH Moda valued at $200 each. Total value of all four prizes is $4,900.00
The prize must be taken before 2nd February 2016, no cash alternative will be offered
The winner must provide at least six weeks-notice of the date they wish to have their lunch
Primo Estate will make every effort to accommodate the winner's request for a chosen date for their lunch but this will be subject to availability of caterers, Joe Grilli and the venue.
The winner will be responsible for booking their own travel and accommodation and Primo Estate will reimburse these upon receipt of proof of purchase up to the total value of $2,000.00 including GST. The $2000.00 total must be used for travel and accommodation to the lunch and not for any other date. The budget can be used for any combination of travel and accommodation that the winner chooses and divided among their guests however they wish.
Primo Estate cannot cancel the event less than seven days before the planned date as the caterer will already have ordered food and booked staff.
Primo Estate is not responsible for delays, cancellations or injuries due to third parties providing transport or accommodation – we recommend the winner purchase travel insurance.
The winners will be drawn at random on 2nd February 2015 at Primo Estate cellar door, McMurtrie Road, McLaren Vale, SA 5171. The winners will be notified by phone or email within three working days.
In entering this competition the winner gives permission for their name and likeness to be used in Primo Estate marketing materials notifying Amici Primo about their win via newsletters and social media.
The competition is run by Primo Estate, 50 McMurtrie Road, McLaren Vale, SA 5171

Enjoy the new season's JOSEPH Extra Virgin Olive Oil fresh from the press. Nothing is more delicious than absolutely fresh olive oil, taste the difference as you indulge in a menu of olive oil based dishes accompanied by Primo Estate wines.
Book today:
Saturday 7th April - Click Here, Book Now
Sunday 8th April - Click Here, Book Now
Monday 9th April - Click Here, Book Now
Menu
2014 Primo Estate La Biondina Colombard - NEW RELEASE
Herb Crumbed Stuffed Olives (family recipe)
2012 Primo Estate Shale Stone Shiraz
Salsiccia con Fagoli (family recipe) with fried sage gnocchi
2012 Primo Estate Zamberlan Cabernet Sangiovese
Lamb Shank, Chickpea, Green Olives, Pecorino and Winter Greens
2013 JOSEPH La Magia Botrytis Riesling Traminer
Merlesco Braised Quince, Soft Vanilla Bean Polenta, Mascarpone


We are thrilled to see our 2008 JOSEPH Nebbiolo included in this month's Selector Magazine feature on Australia's best Italian varietals. The panel headed by David Hook wrote: 'The JOSEPH is one of Australia's most popular Nebbiolos and shows the variety's aging potential. Prune, currant, cassis and spice aromas introduce a palate that's beautifully developed yet still showing primary fruit including currant and plum. Its tannins are starting to soften and there's plenty more cellaring to go'.


Marinated Fish Venetian Style
Serving Size: 4
Difficulty: Easy

Ingredients
8 fillets of tommy ruff, garfish, sardines or mullet
4 tablespoons of plain flour
1 onion, sliced
1 fresh bay leaf
2 tablespoons of sugar
cup of Primo & Co The Venetian Garganega
cup of JOSEPH La Casetta Aged Vinegar
1 tablespoon raisins
1 tablespoon roasted pine nuts
1 tablespoon black peppercorns
2 sprigs rosemary
4 tablespoons JOSEPH First Run Extra Virgin Olive Oil
Directions
Coat the fish fillets lightly with seasoned flour. Heat the olive oil in a frying pan and fry the fillets. Remove to a serving plate to cool.
In a non-stick pan over medium heat lightly caramelise the onions, add the garlic, peppercorns and herbs. Pour in the wine and vinegar and cook for two minutes.
Add the sugar and raisins and taste for a pleasant balance of flavour between sweet and savoury. Pour over fish, cover and allow to marinade for several hours or overnight.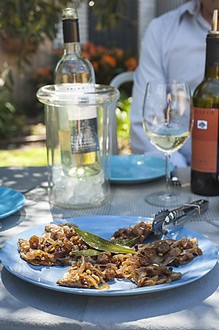 Enjoy FREE Freight and guaranteed delivery when you join our new Virginia Vineyards Unlabelled Club. If you love our great value every day drinking unlabelled wines and want to ensure you never miss out again click here to find out more - join today!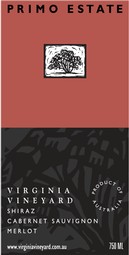 Click here to snap up one of our limited release dozens for just $199.00 (rrp $264.00). Stock up for summer and save $65 on this delicious easy drinking white made by Primo Estate's Joe Grilli. Click here now