Need a great vegetarian dish to go with red wine? Look no further!
This Winter warmer is stunning when served with a glass of 'The Tuscan' Shiraz Sangiovese. The wine's spicy aromatics and cherry fruit flavours are perfect for this hearty recipe.
Ingredients
2 fennel bulbs, halved with green tops removed
2 400g tins sliced tomatoes
1 onion, finely sliced
2 bay leaves
3 cloves garlic, crushed
1 cup vegetable stock
sea salt & cracked black pepper
Directions
1. Pre-heat the oven. Turn to 150°C, fan forced.
2. Add 50ml JOSEPH Olive Oil to a high-sided casserole pot. Put on low-medium heat and sauté the onion and bay leaves for 5 minutes.
3. Add the garlic while stirring. Sauté for another 30 seconds.
4. Add the tomatoes, vegetable stock, a couple of good pinches of sea salt and plenty of freshly cracked black pepper to the pot.
5. Stir the mixture and bring to a simmer.
6. Turn the heat off. Place the fennel bulbs in the mixture cut side up, but not fully submerged.
7. Drizzle a little more JOSEPH Olive Oil over each fennel bulb.
8. Place the the lid on the casserole pot. Cook in the oven for 2.5 - 3 hours.
9. Serve with lashings of JOSEPH First Run Extra Virgin Olive Oil and plenty of crusty bread. Enjoy!
This recipe is delicious on its own or with a side of gnocchi, pasta, or polenta.
We love this dish with our Italian-made 'The Tuscan' Shiraz Sangiovese. It's the perfect spicy red wine for this Winter recipe. Buon appetito!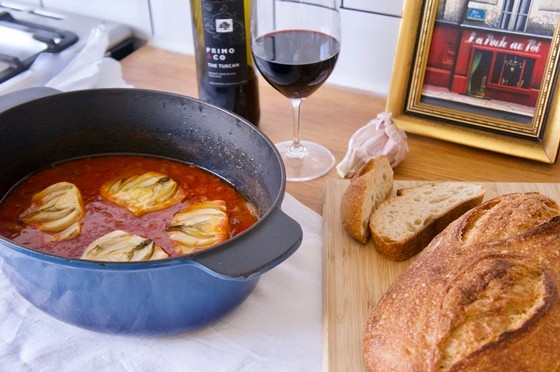 I journeyed to Italy to make my ultimate Italian red: 'The Tuscan' 2021 Shiraz Sangiovese.
'Sangiovese' is Tuscany's traditional red grape. In this wine, I've combined it with a rare parcel of Italian Shiraz from Cortona, in the hills near Siena.
I made the wine at a friend's winery - Stefano Amerighi. Stefano and I had endless fun comparing Shiraz wines from Tuscany and McLaren Vale.
This is a savoury, medium-bodied red with lashings of dark cherry and plum fruit. It's the perfect match for tomato-based cooking.
At home, we've been enjoying The Tuscan with my Slow-cooked Fennel in Tomato Sauce recipe. This dish is a vegetarian favourite for red wine.
Do not miss out on your chance to taste this unique Italian wine. It won't be available in bottle shops or restaurants.
As always, we are offering a bonus bottle of Extra Virgin Olive Oil and free shipping with every mixed or straight dozen.
Life's too short to drink anything other than great wine!

Joe Grilli
Owner & Winemaker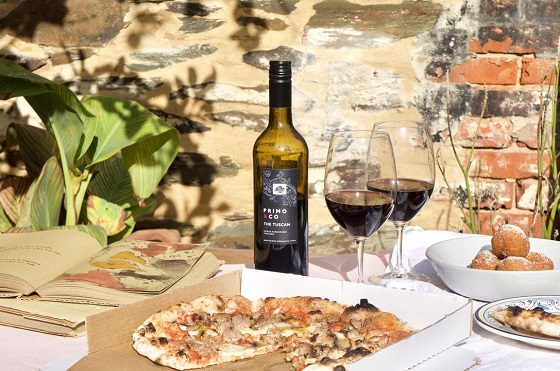 Roasted Carrots with Zucchini and Feta - these veggies are best enjoyed with our freshly pressed JOSEPH Olive Oil! Our seasonal South Australian produce shines when served in this simple recipe.
Wonderful on its own or great as a side dish.
Ingredients
1kg zucchini, cut into 1cm thick half circles
1 bunch baby carrots
1 red onion, cut into small wedges
1 garlic clove
100g Australian feta
JOSEPH Extra Virgin Olive Oil
sea salt & cracked black pepper
Directions
1. Pre-heat the oven. Turn to 220°C, fan forced.
2. Place zucchini, carrots, and onion in a bowl. Drizzle with JOSEPH Olive Oil and mix until vegetables are coated.
3. Remove the vegetables from bowl and spread onto a baking tray.
4. Wrap the garlic clove in a small piece of alfoil. Place on baking tray.
5. Cook in the oven for 20 minutes, until vegetables begin to brown as pictured.
6. Plate the cooked vegetables. Crumble the feta on top as pictued.
7. Unwrap the garlic clove and place in a small bowl.
8. Add approximately 80 ml of JOSEPH First Run Extra Virgin Olive Oil to the garlic bowl. Add a pinch of sea salt and some freshly cracked black pepper.
9. Mash the garlic mixture with a small spoon. Drizzle the garlic mixture over the roast vegetables and feta.
Serve with plenty of crusty bread and a glass of red wine. We love this dish with our Primo Estate Nero d'Avola. It's the perfect spicy red wine for this Winter recipe. Buon appetito!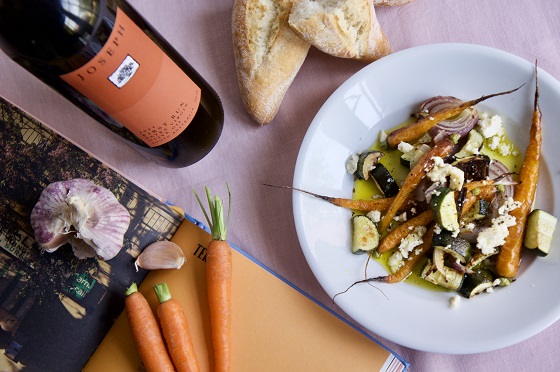 We've created a unique drinking experience using six aged bottles of JOSEPH Moda Cabernet Merlot from our museum cellar.
These wines represent the pinnacle of our winemaking journey. Each has been crafted with our signature technique –the 'Amarone' method, or Moda, of drying grapes before crushing. See me taste through the wines in a short video here.
I have selected three of my favourite vintages for this tasting experience:
2 x 2013
This may be our richest Moda. The wine leaps out of the glass with intense notes of raisin, fig, dark chocolate and cedar.
2 x 2011
As you'd expect from a cooler year, the wine has an outstanding perfume. Bold flavours of plum, cassis, and cigar box.
2 x 2009
An amazing depth of flavour that has only developed after a decade of ageing. Rich, lush blackberry wrapped in dark cocao and coffee. Amazing smoothness and length.
Each wine is distinct, yet all three offer an incredible drinking experience. I have included a card with my detailed tasting notes in every six-pack.
This is a strictly limited offer - a total of fifty six-packs are available. Click here to place your order, which includes free shipping.
I am thrilled with the way that these wines are ageing, and I can't wait for you to taste them. Enjoy!
Joe Grilli
Owner & Winemaker


Once a year, for a limited time, we invite you to experience the best in seasonal South Australian produce.
Our 2022 JOSEPH First Run is the freshest, most vibrant Extra Virgin Olive Oil we have to offer.
We've made the First Run using a small batch of greener olives picked at the beginning of harvest. The fruit is cold pressed and bottled young to capture the most intense flavours of the new season.
The result is a pristine oil with concentrated green banana and cut grass aromas. Its crisp, fruit-driven flavours give way to a clean peppery finish.
We use the JOSEPH First Run to take cooking at home to the next level. It's the best olive oil for drizzling on crusty bread, dressing salads and adding flavour.
We love tasting the new oil with simple recipes like Roasted Carrots with Zucchini and Feta.
The JOSEPH First Run is a seasonal release that is best enjoyed at peak freshness. As an Amici Primo, you are the first to receive this offer. Do not miss this chance to taste the oil at its most flavoursome!
As always, we are giving a bonus bottle of Extra Virgin Olive Oil and free shipping with every mixed or straight dozen of wine and olive oil.
Here's to living La Dolce Vita!

Joe Grilli
Owner & Winemaker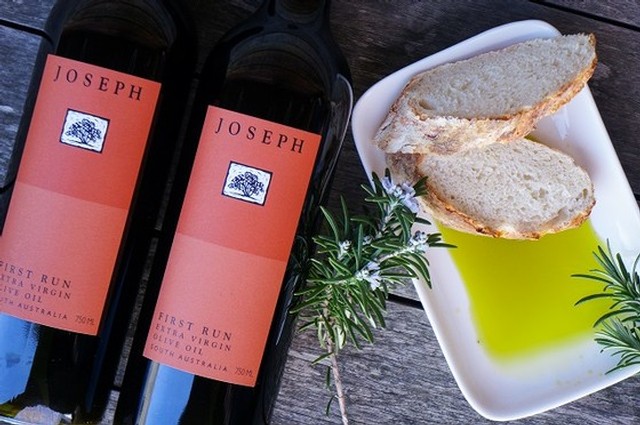 June is a special month in the winery.
It's when we get finally a taste of our latest harvest. Last week we released our 2022 vintage white wines.
2022 has been a great year for McLaren Vale. The long, cool summer resulted in a slow, gentle ripening period.
Picking was delayed, but the quality of fruit has been outstanding. The La Biondina is our first 2022 release, and it's stunning.
The new wine bursts with juicy passionfruit, guava and lemon blossom flavours. Its crisp citrus finish balances 'fruit salad' exuberance. At home we've been enjoying it with all of our favourite seafood dishes. It doesn't get much better than this!

Joe Grilli
Owner & Winemaker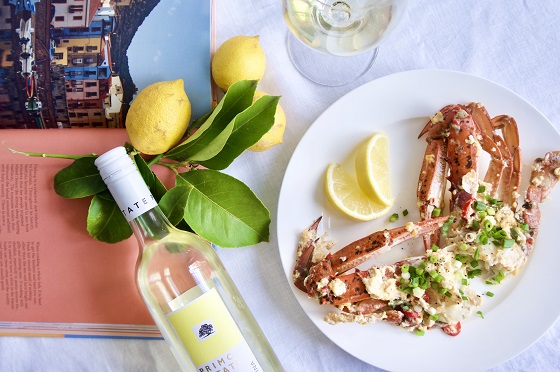 Last week we hosted an unforgettable wine dinner at Bondi Beach.
We released our 2020 vintage JOSEPH red wines at the iconic Bondi Trattoria, right on the beach.
The restaurant prepared a stunning bespoke menu to match with our wines. Highlights included blue swimmer crab pasta, ribeye steak, and braised lamb with truffle in puff pastry.
Joe Grilli, our winemaker, personally introduced each wine to the guests. It was a fantastic evening. Click here to see a short video of the night.
Keen to join us at the next event? Click here to join our mailing list and secure your invite.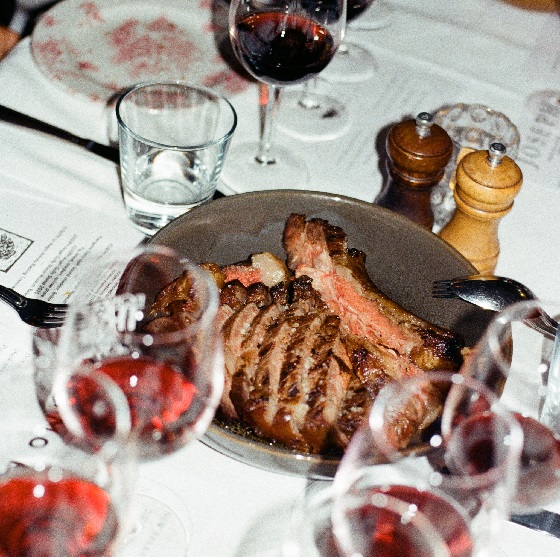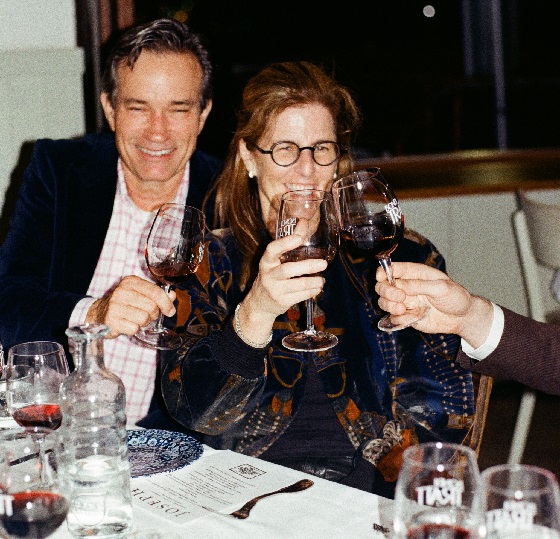 Join us in celebrating the new season's olive oil!
The JOSEPH Olive Harvest Dinner
6:30pm - Saturday 11th June 2022
Victoria Park Social Club
Cnr Wakefield & Fullarton, Rose Park SA
$145 per person, four courses incl. wines
We'll be enjoying an amazing menu by chef Rob Paglia. He'll be preparing each dish using our freshly pressed JOSEPH olive oil.
As usual, we're bringing the wines. Each ticket includes a full selection of Primo Estate wines to match:
NV Primo Estate Prosecco
Baccala Mantecato - traditional Venetian salted fish, crispy polenta
Ostriche - freshly shucked Coffin Bay oysters, La Casetta Aged Vinegar, salmon caviar
2022 JOSEPH d'Elena Pinot Grigio
Sardine Sbriciolato - herb crumbed Port Lincoln sardines, celeriac & fennel remoulade, sea parsley
2021 Primo Estate 'Il Briccone' Shiraz Sangiovese
2020 JOSEPH 'Moda' Cabernet Merlot
Agnello al Forno - slow roasted wood oven lamb shoulder, parsnip puree, salmoriglio, toasted buckwheat
Pollo Arrosto al Girarrosto - rotisserie roasted Barossa chicken stuffed with chestnut risotto, braised wild greens & winter leaf salad
NV JOSEPH 'The Fronti' Fortified
Budino - Adelaide Hills quince & panettone pudding, smoked mascarpone
Macchinetta Espresso e Biscotti - short black coffee and Italian biscuits
Don't miss out on tasting this seasonal produce at its freshest. This is the first olive harvest dinner we've hosted in years, and we expect it to sell out quickly.
We can't wait to show you the incredible new olive oil.
Cheers,
The Primo Team

We've just finished picking the grapes for our 2022 harvest. Early indications suggest that this year will be considered a great vintage for McLaren Vale.
After a wet winter in 2021, the vines burst well with strong shoot growth. Since then, this harvest has been characterised by a cool growing season without any significant heatwaves.
The result was a steady, even ripening period, and fruit was picked at optimal ripeness.
We can't wait to share the first of these wines in the coming months!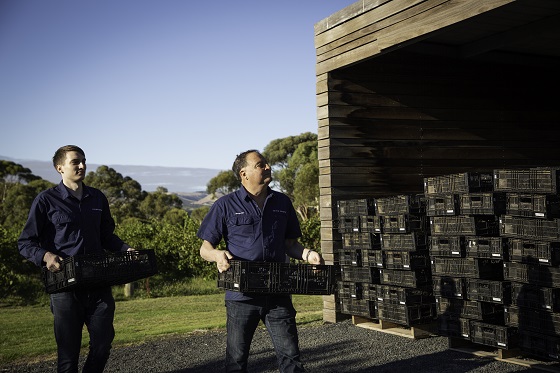 It's finally here: our 2021 Nero d'Avola!
I fell in love with the Nero d'Avola grape during my trips to Italy as a young winemaker.
The black grape from Avola is native to Sicily, the southern island at the tip of the Italian peninsula. I visited the vineyards of Avola, and was struck by their many similarities to our home in McLaren Vale.
Like Avola, the Vale is defined by its hot Summers and cooling sea breezes. My dream of a South Australian Nero d'Avola was born.
Now, decades later, we make a tiny batch of Nero d'Avola in the Vale, and the results don't disappoint.
After picking at full ripeness, we crush into our traditional open-topped concrete fermenters. We age the wine in seasoned oak barrels for one year before release.
This is a spicy, savoury red which bursts with black plum and cherry fruit flavours.
This wine is the ultimate match for Mediterranean cooking. I love serving it alfresco with simple pastas like my Fennel and Salami Recipe.
This is a tiny batch wine - it won't be available in bottle shops or restaurants. You can order from our website or taste and purchase at our McLaren Vale Cellar Door.
As always we are including a bonus bottle of Extra Virgin Olive Oil and free shipping with every mixed or straight dozen.Life's too short to drink anything other than great wine!

Joe Grilli
Owner & Winemaker