The pop and fizz of an Australian icon returns to cellar door this November as we proudly unveil the 2013 disgorgement of our NV JOSEPH Sparkling Red. See in the New Year with something special and order your 'history of Australian wine in a bottle', click here now to buy online.

Seats for this popular lunch are limited so book now - click here
Join us for our annual Italy vs Australia international taste test as we pour Italy's 2012 Primo & Co The Tuscan alongside its McLaren Vale twin, 2012 Primo Estate Il Briccone. Two great wines, both Shiraz Sangiovese blends, both made by our very own Joe Grilli, but from opposite corners of the globe. Which will get your vote?
Exclusive to our Amici Primo, this relaxed lunch starts with a celebratory glass of classic Italian aperitif Primo Secco Aperol Spritz before The Tuscan and Il Briccone are served perfectly paired with a selection of delicious woodoven pizzas. Lunch finishes on a festive note with our new 2013 JOSEPH La Magia Botrytis Riesling Traminer paired with strawberry semifreddo. Invite your friends to share the fun in McLaren Vale's stunning wine country. Which wine will be this year's winner?
Seats for this popular lunch are limited so book now - click here

Flourless Orange Cake

Serving Size: 8
Cook Time: 03:00:00
Difficulty: Easy

Ingredients
2 medium oranges
6 eggs
1 cup caster sugar
1 1/2 tsps baking powder
1 1/2 cups ground almonds/almond meal
Tip: Fancy a change? The two oranges can also be replaced by 4-5 clementines, 3 lemons or 350g of kumquats
Directions
Wash and scrub the outside of the oranges and place them whole (skin and all) in a pot and fill with cold water to cover. Place over a medium high heat and bring to a boil. Allow to simmer uncovered for 20 minutes or so then drain the oranges, place them back in the pot and refill with more cold water. Repeat the process by bringing to the boil, simmer for 20 minutes then drain and refresh with more cold water. Bring it a boil and simmer for about an hour then drain the oranges and set them aside to cool. All up the process should take about 2 hours and you're draining and refreshing the oranges three times.
When the oranges have cooled, roughly chop them to pieces and remove any seeds and white pith (these will make your cake bitter). Place in a blender or food processor (skin and all) then blend/process until a fine puree.
Preheat oven to 175°C / 350°F and lightly grease and line with baking paper a 23 to 25cm cake tin (9.5 to 10 inch tin). I use large round cake tin (24cm across x 7cm high)
Measure out 1 1/4 cups of the puree. Just keep the rest in the freezer until the next orange cake episode. Beat the eggs, sugar and baking powder with an electric mixer until thickened and pale in colour. Add in the ground almonds and mix in well. On a low speed, add in the orange puree in two or three batches allowing it to beat for at least 20 seconds after each addition.
Pour into prepared tin and bake for anywhere between 40 minutes to an hour (depending on oven). Cake is ready when a skewer comes out clean. If it looks like it's browning too much after 30 minutes then you can place a sheet of aluminium foil over the cake tin.When done, remove from oven and cool for 10 minutes before removing it from the tin and cooling on a cake rack.
Serve with a dollop of orange-blossom scented double cream (or plain cream) and candied orange peel if you wish. The perfect pairing for our JOSEPH La Magia Botrytis Riesling Traminer.


The first vintage of JOSEPH La Magia Botrytis Riesling Traminer since 2008 has finally been bottled. Joe Grilli and the winemaking team were once again captivated by the process of infecting pristine Riesling grapes from our Clarendon Vineyard with specially cultured Botrytis spores. Over four weeks the Botrytis cast its spell on the fuit, transforming it into a luscious and alluring sweet white wine. Complimented by a parcel of late harvest Traminer from Coonawarra, the 2013 JOSEPH La Magia Botrytis Riesling Traminer is a complex and layered wine displaying hallmark exotic Botrytis characters balanced by a line of natural acidity and freshness from the Traminer. We invite you to experience this wine for yourself, either in our McLaren Vale cellar door or at your next dinner party. Click here to order online


A blend of the Tuscan olive varieties Frantoio, Leccino and Pendolino along with the staple Verdale and Koroneki varieties, the JOSEPH Cold Pressed Extra Virgin Olive Oil is sourced from olive groves in McLaren Vale, the Fleurieu Peninsula and Adelaide Hills regions. Picked at the peak of the harvest, each parcel of olives is pressed separately in a state of the art Italian olive press before carefull blending by master blender Joe Grilli. Watch a video of the olive harvest and press in action here.

PRIMAVERA CELEBRATION LUNCH MENU:
Primo Estate Primo Secco NV
2013 Primo Estate Merlesco Merlot

Peperonata, White Anchovy Crostini

2013 JOSEPH d'Elena Pinot Grigio

Live cooked in the courtyard South Australian Seafood Risotto

2011 Primo Estate Shale Stone Shiraz
2011 Primo Estate Zamberlan Cabernet Sangiovese

Wood oven roasted Normanville Lamb rack, Salmoriglio, Caponata, fried Sage Gnocchi

JOSEPH La Magia Botrytis Riesling Traminer 2013
Local & Imported Cheeses, Seasonal Fruit, Quince Paste, Fig and Fennel loaf, lavosh, Almond Bread
Click here to book your tickets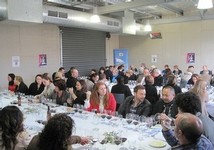 The first review of our 2013 La Biondina Colombard has come courtesy of Ralph Kyte Powell in the Melbourne Age.