The freshly bottled 2013 JOSEPH d'Elena Pinot Grigio arrived at the Primo Estate cellar door this week. Mark and the team couldn't wait to open a bottle and try the new vintage. Fresh from filtration and bottling, it needs a couple of weeks to settle, however the class of this wine is unmistakable. Subtle fruit aromas, hints of spice, soft texture and delicate length as usual. 2013 d'Elena Pinot Grigio, yum.

The 2010 JOSEPH Moda Cabernet Sauvignon has been included in Matthew Jukes' Top 100 Australian Wines. www.matthewjukes.com

An Australian food icon, the JOSEPH First Run Extra Virgin Olive Oil is sourced from selected groves on the Fleurieu peninsula and the Adelaide Hills. As the name suggests, only the first parcels of fruit from the harvest are used to create this vibrant, spicy and intensely flavoured olive oil. Bottled straight from the press while still cloudy, JOSEPH First Run Extra Virgin Olive Oil is seasonal produce at it's best. Enjoy this small parcel of oil while young and fresh.

It's amazing to think that the first release of this wine was back in 1982. The Primo Estate winery was once again filled with the pungent tropical fuit salad aromas of a fresh vintage of Colombard fermentining this February. While an all too familiar scent for Joe Grilli and the winemaking team, it never fails to put a smile on their faces. Now the Young Blonde is set to put a smile on your face, as the new vintage is released in cellar door and online:)

James Halliday has awarded the JOSEPH Sparkling Red 96 points in his latest Top 100 Wine Guide...
With its base of decanted museum red wines dating back 40 years, a hogshead of Primo Estate added every year since 1989, and a hogshead of JOSEPH Moda Cabernet Merlot every vintage since 1991, this wine is unique. As ever, very complex, well balanced and long with cedar, spice and the different flavour from the cabernet merlot barrel added each year.
Australia's Best White, Red and Sparkling Wines, 2010. The Weekend Australian Magazine - November 13-14, 2010.
The 2010 disgorgment JOSEPH Sparkiling Red is available now at www.primoestate.com.au/buy

The Primo Team are taking our Italy vs Australia taste test on a tour of Australia's best pizza restaurants this February. Book your seats today for an evening of great wines and fabulous pizza:
Tuesday 21st February, Brisbane - Il Posto in Paddington. SOLD OUT
Wednesday 22nd February, Sydney - Mad Pizza e Bar in Surry Hills. SOLD OUT
Thursday 23rd February, Melbourne - Basilico in Windsor. To book call 9533 2581
Tuesday 28th & Wednesday 29th, Adelaide - Milano Cucina in Hutt St. SOLD OUT
Thursday 1st March, Perth - Kim's Food Bar, Cottesloe. To book call 08 9383 3545 or email anna@kimsfood.com.au
Starting with a glass of our new sparkling wine, Primo Secco guests will have a chance to enjoy the 30th vintage of our La Biondina Colombard and 2011 Merlesco Merlot before we pour Joe's Italian Shiraz Sangiovese, the Tuscan, alongside its McLaren Vale twin, Il Briccone. Two wines made by the same winemaker, using the same techniques and grape varieties but one is Italian and one is Australian. Which will you prefer? Join us for a fun evening of tasting and great pizza as we take the Primo Estate experience on the road.
We look forward to seeing you there.
Ciao,
The Primo Team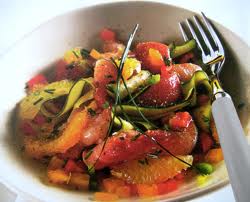 Joe found this lovely recipe jotted down in Dina's journal from their 2010 holiday on the Isola d'Elba, just off the Tuscan coast. Colourful and beautifully textured this salad is quick and easy to assemble. Click here for the full recipe

Primo Estate + The Smelly Cheese Shop Masterclass
We are lucky enough to have our friends at The Smelly Cheese Shop hosting us on April the 8th at their Wright street H.Q for a night of cheese and wine. Join cheese expert Valerie Henbest and Primo Estate winemaker Daniel Zuzolo and learn how to find the perfect cheese and wine matches
Click here for more information & bookings


We invite you to be the first to taste The new 2012 Primo & Co. Venetian Gargenega at a special Venetian inspired lunch in our beautiful McLaren Vale cellar door on Saturday 13th & Sunday 14th April.
Treat yourself to a relaxed lunch and enjoy the delights of the Veneto. Begin the afternoon in our Italian inspired courtyard with a traditional Aperol Spritz cocktail, followed by a menu of mouthwatering Venetian dishes perfectly paired with a selection of our wines. Invite your friends and family to share in this taste of Venice in the heart of McLaren Vale's stunning wine country.
Just $85.00 per person for four courses including wines. Click here - book your seats today
Meet The Venetian
Lunch Menu
Venetian style salt cod crostini
Pasta with chicken broth, white beans & Pecorino
Wood oven baked Mulloway, smashed garlic potatoes, Goolwa cockles, Mussels and salsa verde
Selection of Italian Cheeses
Primo Secco NV
Aperol Spritz
2012 Primo Estate
La Biondina Colombard
2012 Primo & Co
The Venetian Garganega
2012 Primo Estate
Merlesco Merlot
2011 Primo Estate
Shale Stone Shiraz

Primo Estate's Patricia was born and raised in Singapore; she remembers the joys of the national dish from a young age. Patricia describes her childhood memories of the dish, "the thick, messy, sweet, spicy, tomatoey sauce with egg stirred through making it all gooey and gloopy was a joy to eat!" What kid (big and small!) doesn't want an excuse to lick their fingers! Perfect with a cold glass of Primo Estate La Biondina on a hot summer night.