14 March 2023 | Primo Estate
Free pasta kit with our white wine special!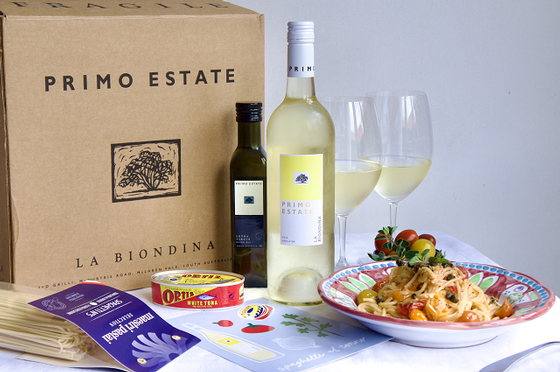 There's nothing like enjoying a glass of chilled white wine with a steaming plate of fresh pasta.
That's why we're releasing a new limited offer - the La Biondina Pasta Pack.
Enjoy 15% off on a dozen La Biondina, and receive a box filled with bonuses:
12 bottles La Biondina

Bursting with juicy passionfruit, mango and citrus flavours.

FREE 500g pack of Maestri Pastai Spaghetti No. 5

​Artisanal Italian spaghetti made in Salerno, Campania.

FREE 112g tin of Ortiz White Tuna in Olive Oil

​Tender white tuna preserved in Spanish olive oil.

BONUS 1 bottle Primo Estate Extra Virgin Olive Oil

​A clean, peppery oil pressed from 100% South Australian olives.
You'll also get a printed card with my favourite tuna pasta recipe - Spaghetti al Tonno. Combine the ingredients in your pack to create this delicious Mediterranean dish.
Want to see exactly what you get? Click here to watch my son Matteo unboxing the La Biondina Pasta Pack.
Plus we'll deliver the pack to your door with free shipping.
Because life's too short to drink anything other than great wine!

Joe Grilli
Owner & Winemaker
Comments
Commenting has been turned off.