22 August 2022 | Primo Estate
Our Favourite Winter Veggie Recipe 🥕
Roasted Carrots with Zucchini and Feta - these veggies are best enjoyed with our freshly pressed JOSEPH Olive Oil! Our seasonal South Australian produce shines when served in this simple recipe.
Wonderful on its own or great as a side dish.
Ingredients
1kg zucchini, cut into 1cm thick half circles
1 bunch baby carrots
1 red onion, cut into small wedges
1 garlic clove
100g Australian feta
JOSEPH Extra Virgin Olive Oil
sea salt & cracked black pepper
Directions
1. Pre-heat the oven. Turn to 220°C, fan forced.
2. Place zucchini, carrots, and onion in a bowl. Drizzle with JOSEPH Olive Oil and mix until vegetables are coated.
3. Remove the vegetables from bowl and spread onto a baking tray.
4. Wrap the garlic clove in a small piece of alfoil. Place on baking tray.
5. Cook in the oven for 20 minutes, until vegetables begin to brown as pictured.
6. Plate the cooked vegetables. Crumble the feta on top as pictued.
7. Unwrap the garlic clove and place in a small bowl.
8. Add approximately 80 ml of JOSEPH First Run Extra Virgin Olive Oil to the garlic bowl. Add a pinch of sea salt and some freshly cracked black pepper.
9. Mash the garlic mixture with a small spoon. Drizzle the garlic mixture over the roast vegetables and feta.
Serve with plenty of crusty bread and a glass of red wine. We love this dish with our Primo Estate Nero d'Avola. It's the perfect spicy red wine for this Winter recipe. Buon appetito!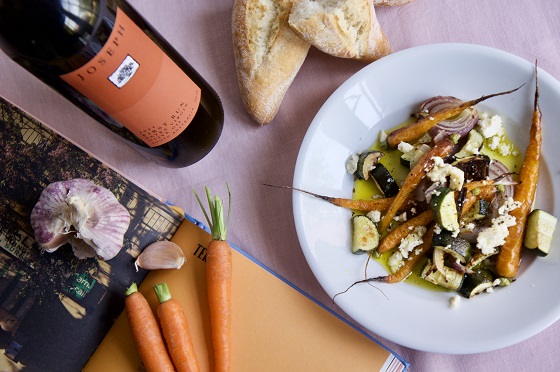 Comments
Commenting has been turned off.