14 June 2012 | Recipe of the Month | Primo Estate
Porcini & Cacao Risotto - Recipe of the Month
When long time Amici Primo Andrew and Justin Lind told us they'd found the perfect match for our JOSEPH Nebbiolo we knew they were serious as they not only sent us the recipe but also included a block of the heavenly Willie's Cacao for us to use! General Manager Richard cooked up a batch for the team one lunchtime and the empty plates and Nebbiolo bottle showed that Andrew and Justine were on to a winner.
This recipe is kindly provided by Willie's Cacao, but we warn you to be very careful clicking on the link, their products are addictively delicious!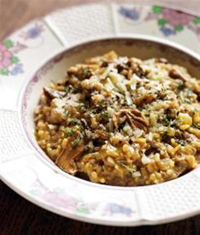 Comments
Commenting has been turned off.