23 September 2016 | Primo Estate
Primo Estate Winners The Architecture and Landscape Category in the South Australian Best of Wine Tourism Awards'
Primo Estate is honoured to be named winner of the Landscape and Architecture Category of the South of Australian Best of Wine Tourism Awards. We will now go on to represent Australia in the International awards with a final winner from each Great Wine Capital to be announced in Porto, Portugal in November. The Chair of the South Australian Judging Panel, Karen Raffen said, 'The winners represent the best of SA's wine tourism businesses – they're outstanding in their field and are leading in their respective award categories.
The inaugural awards program shines a spotlight on the best from our state and allows them to stand alongside some of the world's most prestigious and well-known wine operators from around the globe.'
'The most intelligently beautiful wine tasting edifice in this state, possibly the known universe' wrote Phillip White when Primo Estate's new cellar door opened in 2006. A dream three decades in the making, Joe Grilli took inspiration from his 28 vintages in South Australia, Italy and France to create the perfect tasting space. Like Joe's wines, the building uses Australian natural materials in an Italian style to produce something unique. As we celebrate its 10th anniversary, the design is fulfilling Joe and Dina's dream. Joe says of the win:
'We told the three young architects "build us a modern Australian interpretation of a small Italian square – a piazzetta. Oh and can you design it so that it doesn't date please!". To win this award almost exactly 10 years after the building was completed is a testament to their success in meeting the brief. It is a wonderful feeling to have this acknowledgement of our vision and the architects' skill in translating it into reality. The architects really listened to our vision and they came up with something that surpassed our dreams.'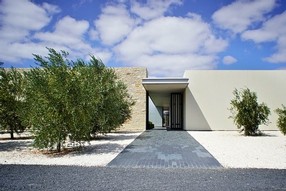 Comments
Commenting has been turned off.