15 October 2015 | Primo Estate
Primo Estate Wins McLaren Vale Cellar Door of the Year Award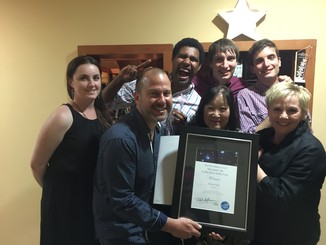 'This was always my dream, to create the best cellar door in the region' says owner and winemaker Joe Grilli as Primo Estate was named McLaren Vale Cellar Door of the Year by the Cellar Door Committee of the McLaren Vale Grape Wine and Tourism Association.
Joe's dream started back in 1979 with the first vintage of Primo Estate but wasn't fulfilled until 2006 when Joe and his late wife Dina finally opened their ultra modern cellar door, complete with tree shaded piazza and inbuilt wood oven, bringing a touch of modern Italian style to McLaren Vale. Inspired by their vintages in Europe the building combines Italian design with outstanding quality local materials, just as Joe aims to do with his wines and olive oils.
As Primo Estate's cellar door prepares to celebrate its 10th anniversary in 2016, Joe's vision and the hard work of his team have been recognized with the ultimate recognition from their peers, the McLaren Vale Cellar Door of the Year Award. 'It's all about sharing our passion for this amazing region and these great wines to make sure our visitors enjoy it as much as we do' says cellar door assistant Jesse Kemelfield who was singled out to receive a Regional Star award for outstanding service. 'It's a true honour to win in a region that has so many amazing cellar doors, I like to think that it is our genuine love for what we do that allows us to give a memorable experience to our visitors' says cellar door manager Mark Van Gestel. 'Primo Estate delivers a true McLaren Vale experience with exemplary customer service and stylish wine tasting at their stunning cellar door – a very worthy recipient of the Cellar Door of the Year Award from Phil Hoffman Travel' says Jennifer Lynch, General Manager of McLaren Vale Grape Wine and Tourism.
Come and visit us soon and experience our award winning cellar door for yourself
Comments
Commenting has been turned off.