7 January 2015 | Recipe of the Month | Primo Estate
Recipe of the Month - Grilled Calamari Skewers
Ingredients
1.00 kg calamari (squid) tubes and tentacles, cut into bite sized pieces
1 cup of JOSEPH Cold Pressed Extra Virgin Olive Oil
2 cloves of garlic, crushed
3 tablespoons flat leaf parsley, chopped
2 cups fresh breadcrumbs
salt and freshly cracked black pepper
skewers (pre-soak in water if using wooden skewers)
1 lemon
Directions
In a bowl, drizzle JOSEPH oil on the calamari along with 1 tablespoon of chopped parsley, salt, pepper and garlic. Mix and set aside for at least 15 minutes.
In a seperate bowl combine the remaining 2 tablespoons of parsley with the breadcrumbs.
Roll the calamari through breadcrumbs and skewer. Grill for 2 to 3 minutes on each side and serve immediately with a final drizzle of oil and a squeeze of lemon juice.
Discover more Grilli family recipes here - click here now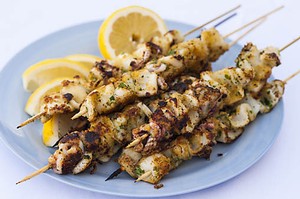 Comments
Commenting has been turned off.