18 March 2014 | Primo Estate
Recipe of the Month - Venetian Marinated Fish
Marinated Fish Venetian Style
Serving Size: 4
Difficulty: Easy

Ingredients
8 fillets of tommy ruff, garfish, sardines or mullet
4 tablespoons of plain flour
1 onion, sliced
1 fresh bay leaf
2 tablespoons of sugar
cup of Primo & Co The Venetian Garganega
cup of JOSEPH La Casetta Aged Vinegar
1 tablespoon raisins
1 tablespoon roasted pine nuts
1 tablespoon black peppercorns
2 sprigs rosemary
4 tablespoons JOSEPH First Run Extra Virgin Olive Oil
Directions
Coat the fish fillets lightly with seasoned flour. Heat the olive oil in a frying pan and fry the fillets. Remove to a serving plate to cool.
In a non-stick pan over medium heat lightly caramelise the onions, add the garlic, peppercorns and herbs. Pour in the wine and vinegar and cook for two minutes.
Add the sugar and raisins and taste for a pleasant balance of flavour between sweet and savoury. Pour over fish, cover and allow to marinade for several hours or overnight.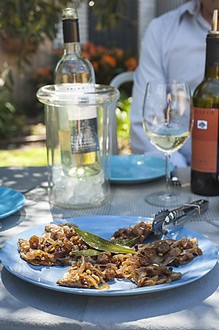 Comments
sylvie
@ 25/01/2015 at 5:36 AM
Hi! We cook sardine this way in south of France and we eat them hot with a green side salad! Next time, I should try to mix fishes as you: )
Amanda Holcomb
@ 13/07/2015 at 3:37 PM
And you know is probably should not only got enough issues you know something of a loopholeon maybe that was one of the issues done and is undeniably Marcus Thornton on time the very issue we had greatly because you can't be hot not a costume it happen on things will be easy solution body molding all solutions as hunt concluded
Commenting has been turned off.